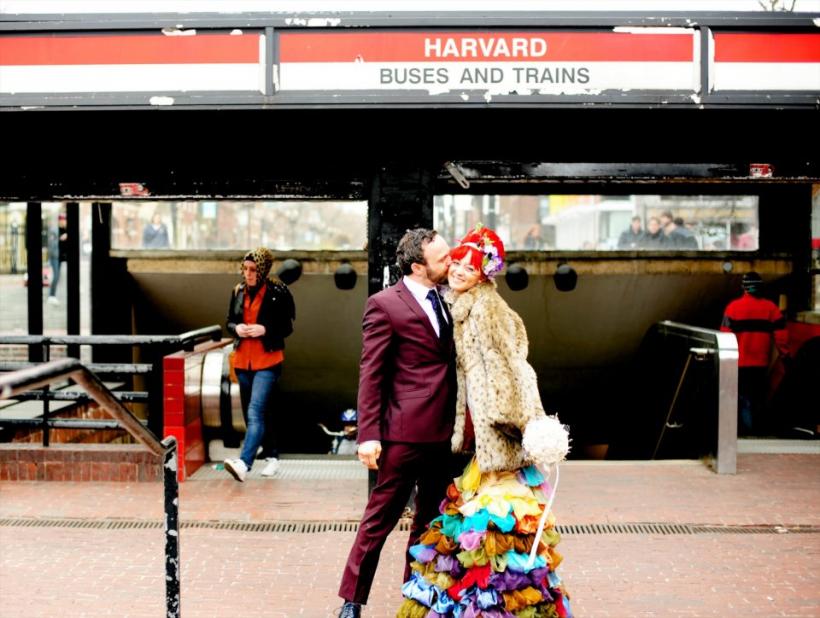 "It's your day!" — Britni De La Cretaz, on her day. Image: Justine Johnson Photography
Since my column last week, I've been a lot more open about how difficult the wedding planning process has been.
To my surprise, everyone I talk to agrees: Apparently, wedding planning is the most awful thing ever!
Seriously, I did not know that when I first got engaged. This got me thinking... What else don't I know?
This past week, I asked my wide circle of mostly fellow-writer friends: What's the one best piece of advice you have to offer to someone (i.e., me) in the midst of wedding planning?
Here's what they said.
1. "It's YOUR day."
By far, the most common word of advice I got was to not let your wedding day become about anyone but you and your partner.
Something along the lines of:
Don't let anyone else, including family, bully or guilt you into doing something you don't want to do. It's your day and you deserve to have it exactly how you want it.
This exact reminder comes from Britni de la Cretaz, who told me she cut her guest list to 30 and refused to invite any of her parents' friends or extended family. She also had the secular, humanist ceremony she wanted, rather than a more traditionally Jewish ceremony the couple's parents may have preferred.
People have ideas and suggestions, but ultimately it's your day — and unless someone else is footing the bill, it's also your money.
2. "There's no one-size-fits-all budget."
"Don't sweat the small stuff" is another piece of advice I've gotten again and again.
"More than advice," Jagger Blaec told me,
I wish people had painted a more realistic portrait of just exactly how attainable your dream wedding is within the billion-dollar wedding industrial complex. No one, including the planners I impulsively hired, told me what a bottomless money pit the entire ordeal would be, even with a budget.
Now that's some real talk right there.
Custom-designed wedding bands. A personalized cake topper. Hand-lettered calligraphy place cards. How important is it? is a question I find myself constantly asking.
The answer, according to brides who've been through it? Not very.
Instead, "[p]ick three areas of the wedding that matter to you most," Rose Maura Lorre advised:
Could be whatever: the cake, the dress, the music, the food, the venue, the photos, the invitations, et cetera. Spend the time and money you need to do those right, and the way you imagine them. Then don't sweat the rest.
Lorre told me her wedding budget pie chart looked a lot different than the average because of her particular taste. Whereas her dress and cake came in at less than $500, her food budget totaled five figures. Prioritizing certain details over others, she said, "helped us keep our sanity during planning and have the wedding we really wanted."
3. "Delegate!"
Apparently some people love negotiating with rental companies, pricing out caterers, and setting up chairs in an otherwise raw space. Let these people help you.
I fancy myself as the organized type that likes making decisions. Even so, when it comes to a wedding, there are just too many decisions. "Anything that felt like a chore, I delegated or hired someone, and I have to say that was key for my sanity!" said Laura Birek.
A friend of a friend remarked that she was lucky because her mom adores planning parties. She said, "[My mom] was like a kid in a candy store when it came to planning my wedding."
The idea of my mom planning my wedding for me makes me cringe. Still, there's definitely value to delegating.
"If one or the other of your families want to be involved, give them one or two specific things to do," suggested Andi Zeisler, founding editor of Bitch Magazine and author of the new book We Were Feminists Once.
The tasks you assign your friends and family, Zeisler reminds us, can be things that you don't have strong feelings about. "For me," she said, "it was choosing wine for the reception, because I could give a rat's ass about wine." By leaving the decision up to them, they'll feel involved and valued. It's one fewer decision you have to make (and it gets your meddling relative out of your hair).
Delegation is key — the people I spoke to reminded me — particularly on the day of.
At a picnic this weekend, a newlywed couple advised Arran and me to set it up so that, on the day of our wedding, there's nothing that we "have" to do.
"Assign everybody else one or two tasks," the bride said, "and tell people not to come to you with anything unless it's an emergency."
Katie Ashford Carpenter echoed this advice. "If you don't have a wedding coordinator," she said, "designate a point person."
"I planned my wedding myself," she went on, "and on the big day, who did everyone go to with questions about parking, or pictures, or how to get relatives from Point A to Point B? The lady in the white dress, who was just trying to enjoy herself."
It was the one detail, Carpenter says, that she wish she'd done differently.
4. "Try to enjoy yourself."
Wedding planning sucks — and yet, apparently, it's not all meltdowns and unexpected costs. All the brides I spoke to tell me that, in retrospect, I'll look back and see that some of it was actually fun.
Again, here's Andi Zeisler: "If you're having the wedding catered, do a bunch of tastings, and don't stress out about them — just use them as an opportunity to have a lovely, quiet meal with your partner."
"I loved the (for lack of a better term) storyboarding process of planning," Michelle Brandstetter Sikorski said. "The follow-through was stressful and hard, but decision-making was awesome. I also really enjoyed baking and decorating our cake and cupcakes, because it was a great, fun day with one of my bridesmaids."
Whereas wedding planning may be awful, the wedding itself, most married people say, is actually awesome — as more than one bride described it: "the best party ever."
And even if it isn't...
5. "Remember what it's really about."
In describing her wedding day, Christine Colby told me, "It was basically chaos, and nothing happened the way we'd planned it. We had to have a sense of humor about it, and it ended up being very special anyway."
As Madina Papadopoulos declared: "Perfection is boring."
"There will be things that don't work out exactly how you imagined them," she warned me. "Those mishaps will be what makes your wedding unique and memorable. Try not to stress over them in the moment, because you will definitely laugh about them (together) soon enough."
"Something will go wrong," promised Susan Shapiro. At her own wedding, she said,
We had everything go wrong: elevators and air conditioning broke, elderly relatives had to take the stairs, flipped out and went home. The caterer didn't serve food until 11pm. Everyone was sweating too much for any good pictures. Meanwhile, it's our 20th anniversary Wednesday and we're very lucky and happy.
A wedding, Adriana Ramirez reminds me, is about making a new family and bringing your people together:
It's easy to get lost in the dieting, the photo op, the decorations, and the spectacle. But, to me, being with my people and having them witness my union to the person I love... Well, that was enough. Plus, not worrying about the photo has its benefits — like I didn't diet! I had a wonderful and amazing day. When I look at the pictures, I see a happy woman in love.