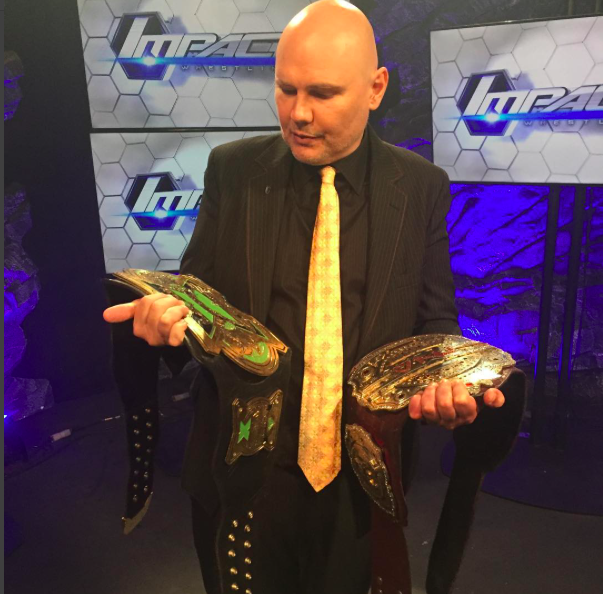 Image Credit: Instagram (impactwrestling)
The year's not over yet and already its bizarre occurrences and oddities are innumerable. We won't even get into the black hole of material known as the presidential election because that's too easy. Let's just say that most of the nation might feel like the bald eagle that got lodged in the grill of a car in Clay County, Florida recently. Don't worry, the eagle is still alive and is being cared for by a wildlife sanctuary (phew). We're going to go ahead and count that incident as one of the many strange events of 2016. If you're a fan of the weird, the strange, and not just the show Stranger Things, then you've found your place.
1. Tonight, Tonight, Let's Watch Some Wrestling
Billy Corgan of the popular 90s band Smashing Pumpkins is now president of a professional wrestling league. Impact Ventures, a parent company of TNA Wrestling (which stands for Total Nonstop Action in case you were curious), has signed Corgan on for this full-time gig. He has admitted to being a lifelong fan of professional wrestling in the past, but this move sealed it. Other post-Pumpkin activities for Corgan include starting a new band, releasing a solo album, publishing a poetry collection, then restarting the Smashing Pumpkins. No word yet on whether he'll take a timeout from day-to-day operations to become a costumed wrestler named Mellon Collie, but a girl can dream.
2. The Clown Situation
Next up, bring in the clowns. I'm sure you've probably heard by now that folks dressed up as the circus characters we've all hated since childhood have been hiding in the woods across the country and attacking both children and adults. This terrifying trend has even made it to Canada.
People can't stop talking about this clown situation, and who can blame them? But that also means that at the very mention of the new c-word, schools shut down for the day and law enforcement has to get involved, wreaking havoc on everyone's nerves regardless of whether the clowns are actually there or not. Professional clowns are now being verbally abused when traveling to and from jobs. Pro tip: Maybe take off the red nose before heading to the grocery store.
3. Unrecognizable Automobiles
You may have also heard that Lyft is transitioning into using self-driving cars, but there are even more developments in transportation this year. Some car models are even incorporating office space into their interiors since drivers won't have to worry about that whole driving thing any longer. Also, in April, Toyota created a concept car made solely out of wood (surprise, it's not actually street legal). Plus, there's now a Tesla Model S that comes in hearse form for those deathly classy people.
4. Matthew's Mishaps
Hurricane Matthew caused a lot of horrific destruction but also a few quirky events. The storm unearthed several cannonballs dating back to the Civil War in Folly Island, South Carolina. A bomb squad discovered the forgotten relics in the sand and reported that those nearby may hear a "small boom" when they take care of the situation. Meanwhile, in Florida, a stork decided to hunker down in a public bathroom at the St. Augustine Zoo. There haven't been any reports of it attempting to make deliveries while there, leading me to question — where do babies really come from?
5. One for the X-Files
Unusual cloud formations in the UK caused people to wonder if aliens were finally coming to get them. This atmospheric phenomenon, known as a fallstreak, looks an awful lot like a UFO and can be caused by aircraft punching through a cloud layer.
There's still time for more freaky occurrences. Buckle up for the rest of the self-driving automobile ride that is the calendar year 2016, because it might be bumpy. If nothing else, it will be interesting.