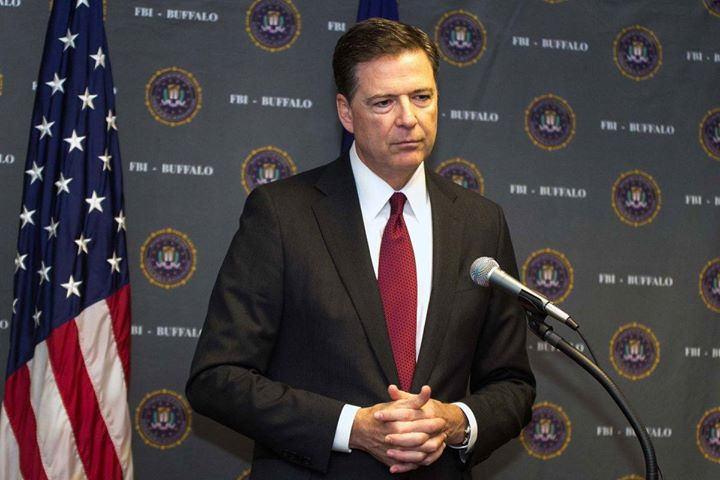 The F.B.I. has been investigation Trump. SINCE JULY. (Image Credit: Flickr/Rich Girard)
Yesterday, Americans got to take yet another trip to the magical realms of WTF as FBI Director James Comey gave public testimony before the House Committee on Intelligence. This was a much anticipated appearance because a whole lot of Americans — and probably some Russians — have been very curious to know about the scope of the FBI's investigations into Russian election tampering and the possibility of collusion between Russian agents and members of the Trump campaign.
So what did we learn?
Welp. Comey confirmed some things we already knew. There was Russian interference in our election. Russians were behind the hacking at the DNC and a similar attack on the RNC. (An attack which resulted in no released documents or emails. Funny thing, that.) Also? The Russians see no reason to stop tampering with our elections and they're likely to try again as soon as 2018.
So, that's awesome.
But the big reveal came when Comey confirmed that the FBI is, in fact, investigating possible collusion between Russian officials and Trump staff and associates. The investigation started in July of 2016 and is ongoing.
One more time for the folks in the back: TRUMP AND HIS BUDDIES ARE UNDER INVESTIGATION BY THE FBI, RIGHT NOW, THIS VERY SECOND.
Most of us are not particularly surprised because it feels like we've been building toward this admission by intelligence and law enforcement for a long time. But here's what we need to remember: this is not normal. I mean NOT NORMAL.
Think back to March of 2001. Do you remember what was going on with George W. Bush? No. You don't, because he was doing normal new president stuff like holding meetings and planning how to squander the Clinton era budget surplus. He wasn't dodging questions about possible election malfeasance committed on his behalf by an antagonistic foreign power. Or what about March of 2009? Obama was busy divvying stimulus funds and wearing mom jeans, not being probed for corruption on a massive scale.
This is the most bizarre first eight weeks of the presidency that anyone I know can remember, and if you're feeling off-balance, confused, and angry, well, yeah. Yeah. Shit's weird.
Now, what does all of this mean? Because this isn't a Scorsese film, there will probably be no showdown where armed agents storm the White House and drag the president out in chains. More likely, the investigators will keep investigating for a long stinking time. Comey himself said that the investigation so far is short, as such things go. We need to be prepared to wait for results.
In the meantime, I'm going to put in some calls to my senators and representative and tell them to make sure the FBI has all the resources it needs to do this investigation right. As Mulder and Scully would say, the truth is out there. Let's not let this turn into an X-file.