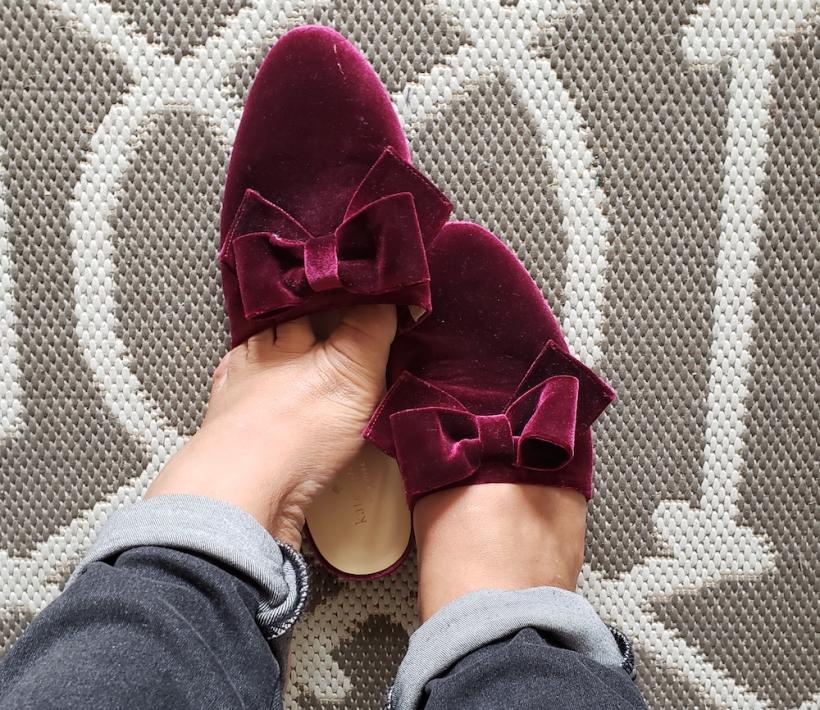 image credit: Virgie Tovar
It started with the size 10 Kate Spade shoes.
When I find a pair of size 10 shoes at a thrift store I instantly feel this rush of big-feet solidarity. 
I imagine I inherited this shoe from an Amazonian babe who towers above others wherever she goes (her feet must support her extraordinary height!), or a sparkly drag queen who maybe had to make room for her other looks (and reluctantly let go of these treasures!), or maybe she was also a fat lady who had wider feet that needed to be adjusted for with a larger size (we are always making this world, which is designed for thin people, work for us!). 

Let me be clear. Finding size 10 shoes at the thrift store is — a challenge. Finding cute ones means that you probably did a really good deed in your former life. Finding Kate Spade deep wine velvet slip-ons with oversized bow accents means that your spirit guides drank too much phantasmal champagne and forgot to turn off the machine that makes sure we all stay humble. 
I thought the shoes were going to be the score of the day. However, as I moved from shoes to dresses and from dresses to tops, I found one amazing piece after another in the same size — Size Fat™, my size. It wasn't long before it became clear that strewn throughout the entire store was what I believed to be a major chunk of one fat babe's wardrobe. 
 

It turned from a simple therapeutic shopping trip — where I go from aisle to aisle trying to figure out whether I need to salvage yet another plus size vintage dress with an enormous boob soup stain on it — into a scavenger hunt. 
Yes, I loved her style and wanted to take all of her beautiful craps home, but it was more than that. I felt connected to this mysterious fat stranger who loved cheetah print and slightly funky off-the-shoulder sweaters.
What did she like doing in this black crop top sweater with fringe?
Did she go on any fun dates in these cute dark denim ASOS hip huggers?
Was this black silk button down top part of her after-work networking attire?
Had she gone to the beach in these distressed light blue jeans?
Had she paired this forest green sweater with this olive bomber?
Did she wear this black brocade trench coat to a Christmas party?
Was this hard shell bronze clutch her go-to for fancy events?
How did she own literally everything from Isaac Mizrahi's collaboration with Target?

As I thought about writing this week's Take the Cake, I wanted to explore something real/material – all this amazing clothes — and something immaterial — an imagined relationship with an imagined person. I'm interested in how those two hours I spent looking through this babe's closet conveys a story about my desire for intimacy with other fat people. 
Let me tell you about Elizabeth (that's what I decided her name is) — or maybe Andrea, possibly Marytza.
She is a feminist who is powerfully single. She loves churros and Tina Belcher. She's a little more straight laced than me but she talks about poop on the first date for sure. Elizabeth/Andrea/Marytza absolutely under no circumstances gave away all of this amazing clothes because she was on a diet. No, she gave them away because she is killin' it so hard at getting paid that she doesn't even have room in her massive walk-in closet for last season's goods.

As I got deeper into her wardrobe I found myself cheering her on. On more than one occasion I caught myself saying "yaaaaas, get it Elizabeth/Andrea/Marytza" when I found some of her designer label pieces, imagining her sashaying up to the register at Nordy's and looking ferocious as hell with her platinum AmEx.
I finally left Goodwill with about 15 pieces and the sense that I had a new friend. I know that might sound creepy slash weird, but I've been exploring this idea of fat intimacy and solidarity in the past month. Just a few weeks ago I asked "where do you feel safe as a fat person?" and I kept coming back to the question of whether most (even woke) fat people do indeed relate to each other with a sense of shared experience and mutual investment.
I know I do.
I look to my fat friends when I need to be grounded after a fatphobic microaggression happens and I am gaslighting myself into believing it didn't.
I feel exuberance when my fat friends succeed because I know they did it against a whole of odds.
I find myself able to relax just a little bit more when I'm doing stuff with fat people because I know we understand the unique ways our bodies work, move, feel, the way chub rub scars look, the different ways that bellies sit, the way unease in public is second hat but we're navigating it together.
I seek out other fat people when I'm at networking events.
I compliment other fat people I see in the streets.
I felt a sense of shared purpose with Elizabeth/Andrea/Marytza. I felt committed to her success. I felt curious about who she is. I felt grateful that she had shared her treasure with the world. I felt excited that I had inherited this small fat archive.
Before I left the store I offered up a little prayerful promise – silently – to keep her clothes in the family. And to pass them on to another fat babe when the time was right.
---
Related: