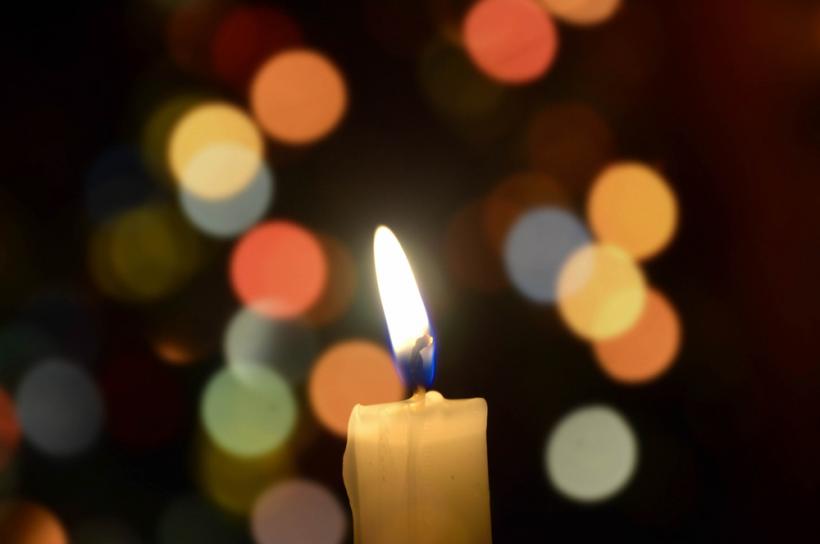 I didn't think a lot about gratitude growing up. That is, until the desire to maintain an old tradition motivated me to ask a new question.
This article first appeared on The Refresh and has been republished with permission.
---
"Gratitude is the sweetest thing in a seeker's life – in all human life. If there is gratitude in your heart, then there will be tremendous sweetness in your eyes." — Sri Chinmoy
With another holiday season upon us, this is the time of year when we start to get bogged down in decorations, gifts and parties. And while those things are fun and joyful and offer a chance to share happiness with those around us, it's easy for the deeper meaning of the season to get lost in the commercialism of it all. That's one of the reasons my family consciously keeps gratitude front and center during the holidays.
I didn't think a lot about gratitude growing up.
It isn't that I wasn't grateful for what I had, I just didn't really think about it. I was always much more focused on what was coming than on what was right in front of me. "What are you grateful for?" isn't a question that came up a lot. That is, until the desire to maintain an old tradition motivated me to ask a new question.
When Stu and I got married, melding the cultural traditions of our families really wasn't an issue. Stu's family is Jewish, and mine is Muslim, but neither of us is religious, nor particularly tied to the cultural traditions we were brought up with. We happily celebrated the holidays of our respective families with them, and mostly left those traditions at the door when we got home.
When our daughter Amira was born, I wanted to incorporate some of our families' traditions in our own home, like Hanukkah. But Stu didn't see it the same way.
"I don't want to do Hanukkah," he said. "I'm not religious, and I don't feel a connection to the Jewish culture. It's just not my thing, and to pretend otherwise is inauthentic and uncomfortable."
I looked at the old bronzed menorah sitting atop our piano and considered what we could do. Hanukkah is not a holiday I grew up with, but there is something about lighting the candles together as a family in a moment of thoughtfulness that speaks to me. It's a beautiful custom, and I wanted to incorporate it into our own family tradition, so I presented it to Stu with a new twist: What if we light the candles, but instead of saying the traditional Hanukkah blessings, we acknowledge out loud something we're grateful for each day? Stu loved the idea.
In the end, my simple desire to keep lighting the candles, and Stu's willingness to take something old and turn it into something new that works for our family, is how the holiday we call Gratitude began.
Adopting a gratitude practice has become mainstream in recent years, with many celebrities including Oprah Winfrey, Richard Branson and Tim Ferriss sharing how their own gratitude practices help them stay happy. But the value of gratitude isn't just hearsay. Science backs up the benefits of taking a moment to pause and acknowledge what you have.
A 2012 study published in Personality and Individual Differences found that grateful people were more likely to take care of their own health, including exercising regularly and getting regular checkups. The previous year, Applied Psychology: Health and Well-Being published a study which found that 15 minutes spent writing down grateful sentiments improved people's sleep, while a study from the University of Kentucky discovered that people who practiced gratitude were more empathetic and less aggressive.
Intuitively, this all makes sense. Gratitude can take us from a place of desire to a place of appreciation. Desire is about the future — something more, out there, somewhere, one day.
Appreciation — gratitude — is about the here and now.
The focus shifts to what's in front of us today, in this moment. And being thankful for it.
Stu and I talked about how to put my idea of lighting the candles and sharing something we're grateful for into practice, and we developed a beautiful nine-day holiday that we shared not just in our family of three, but with our extended family, our friends, and over the past few years, more and more strangers through social media.
The holiday of Gratitude works like this:
Beginning on December 17th, we light the first candle on the menorah or as we call it, the Gratitude candelabra. If such a candelabra isn't available, any candle will do. As we light the first candle, we each say one thing we're grateful for. On the second day, we light two candles, and say two things we're grateful for, and we continue this practice for nine days, the last day being Christmas Day, December 25th. We try not to repeat things, so at the end of the holiday, we will each have acknowledged gratitude for 45 individual things.
My favorite day of Gratitude is the fifth day, which falls on the winter solstice, December 21. Stu named that day The Lightening and designated it as an opportunity to acknowledge and then let go of things that aggravate or upset us. We share together things that bother us, or hold us back, and then acknowledge our own freedom from those things, or make a commitment to changing them — to lighten our heart and move forward with love and gratitude.
Wrapping up the holiday on Christmas Day is especially poignant. For those with religious convictions, it is a time to be grateful for their faith. For those of us who are not religious but continue to enjoy Christmas in a more secular fashion, it gives us an opportunity to put the commercialism aside and remember that these days off work spent with our families are an opportunity for deeper meaning and connection.
We celebrated our first Gratitude in 2012. The following year, Stu shared Gratitude with our family and friends by posting it as an event on Facebook, allowing it to be read and shared by anybody. Through the years, friends and strangers have used social media to share their own Gratitude declarations for each day of the holiday.
Sharing the holiday, and having loved ones and strangers participating in their own way, has made the experience even more meaningful.
We believe deeply in the spirit of what we created, and others sharing their own Gratitude traditions has been a validation, confirming that what we created has value in the world beyond our own walls.
Jenn Adams, a 43-year-old massage therapist from Pittsburgh now living in Costa Rica, first heard about Gratitude a couple of years ago, and immediately adopted the holiday as part of her December celebrations. She said, "The holiday of Gratitude includes everyone and is based from a place of love. It is a time to focus on the past year, and the many reasons to be grateful. It is a humbling celebration, and I believe it creates a positive focus into the new year."
And Jenn has developed her own Gratitude tradition. "I make an altar for the candle lighting. My mom and I end our day with a meditation, sharing, and lighting the candles. I share with our Facebook group, too. We end the celebration with a yummy home cooked meal and share with neighbors."
Kathy R. is a good friend of ours who lives and works in Toronto. Kathy previously had no religious or spiritual connections with this holiday month, but she found something in Gratitude the first year we posted about it on Facebook, and adopted the holiday for herself with her own twist.
"The reason I choose to participate is because it feels to me to be one of the most authentic spiritual practices I have done," Kathy told me. "All religions speak of gratitude, but to have a specific period of time where gratitude alone is the sole purpose focuses your mind and heart on what is present in your life. I also feel like it helps me to enter into the new year with a deeper sense of purpose and resolve."
Kathy, an avid reader and writer, found a way to incorporate her love of books into her own Gratitude celebration.
"I remember the first year I participated I picked books off my bookshelf that represented the things I was grateful for. I remember placing a travel book in my bay window, lighting my candle and writing about how I was grateful for travel. I posted photos of the bay window each day of gratitude season with each new book and lit candle."
A couple of years after we started the annual tradition of Gratitude, we made it a daily practice in our family.
Studies have linked a regular gratitude practice to greater self-esteem, increased mental strength and better psychological health — things Stu and I wanted not just for ourselves, but for our daughter, too. Now at bedtime each evening, Amira, Stu and I share with each other one thing we are grateful for that day. Amira was only two years old when we started this daily practice, but now after doing it every day for over 4 years, her "gratitude muscle" has grown quite adept. She understands the concept of being grateful for clean water, a cozy bed and a loving family, in addition to her toys, books and iPad.
Gratitude has spilled over into the whole year for others, too. Jenn said, "I carry the Gratitude holiday close to my heart all year long. When times are troubling, I light a candle and think about what I am grateful for. It has made me have more compassion for others. It's becoming part of my lifestyle."
I invite you to begin your own celebration of Gratitude this year. Use a candelabra if you have one, simple candles if you don't, or no candles at all. Celebrate it in whatever way calls you. All you really need is an open heart toward what's in front of you now. There's no better way to close one year and start one anew. It begins with just one simple question, "What are you grateful for?"
"Gratitude unlocks the fullness of life. It turns what we have into enough, and more. It turns denial into acceptance, chaos to order, confusion to clarity. It can turn a meal into a feast, a house into a home, a stranger into a friend." — Melody Beattie
---