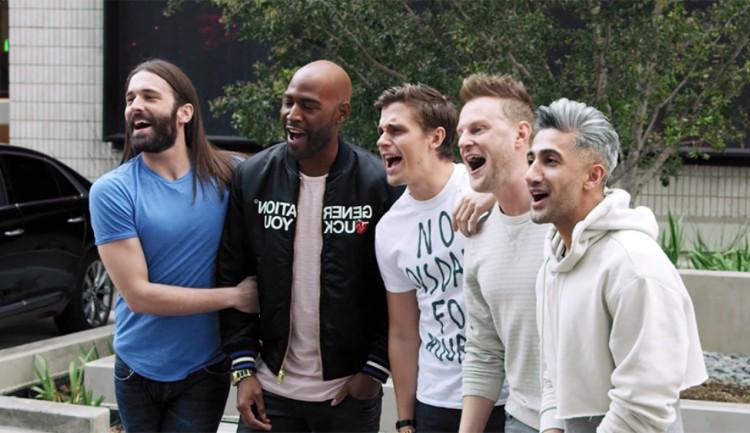 Image Credit: Netflix Queer Eye Reboot
I had just finished binge-watching all eight episodes of Netflix's Queer Eye reboot with my boyfriend when I turned to him with puffy, red-rimmed eyes and he immediately made a grab for more kitchen roll; I was a bawling mess. 
In a world where issues of toxic masculinity are as prevalent as ever and increasing media representations of the LGBTQ+ community — though promising — still have a long way to go, it was moving to watch a show directly address and encompass these very pressing issues of masculinity, sexuality, and identity.
The premise of this Queer Eye reboot is simple, being a reboot of the original series that ran from 2003 to 2007. Netflix's 2018 version offers a wonderfully diverse update of the "Fab Five" — a team of gay men who specialize in different areas of lifestyle and culture, each offering his unique arsenal of knowledge, expertise, and tips and tricks to provide the episode's participant a life-altering "make-better."
With Karamo Brown as the culture expert offering a wealth of life experiences, Tan France as the fashion and style maestro, Bobby Berk's exquisite expertise in design and renovation, Jonathan Van Ness' impeccable grooming prowess, and Antoni Porowski as the food and wine connoisseur, all of the straight (except one) cisgender male participants were subject to not so much a physical transformation as a mentally positive, affirming shift toward self-acceptance and self-love.
What sets Queer Eye apart from a majority of makeover shows isn't just the fact that it invites us to shift our focus towards men — a demographic that hasn't always been the traditional loci of Cinderellaesque transformations — but that it successfully showcases how culturally patriarchal perceptions and expectations of masculinity have been damaging to our society as a whole.
What this Queer Eye reboot offers is a show brimming with honesty, emotional maturity, vulnerability, candidness, and most significantly, heart.
Take, for example, the sweet-natured and completely loveable Tom, who as the focus of the show's opening episode, labelled himself as "ugly" several times, revealed himself to be a "creature of habit," and professed his love for homemade "redneck margaritas" (a concoction of tequila and Mountain Dew, for the curious).
We followed his journey to build up enough confidence to ask his ex-wife Abbey on a date. Tom's self-depreciative jokes stung because we were presented with a man whose low confidence and self-esteem issues contrasted so sharply with that of his hosts. Tom's catchphrase "You can't fix ugly" seemed like a defence mechanism, or even a challenge to the Fab Five, signalling his defeatist attitude and complete lack of self-belief before he had even started.
But with the team's gentle perseverance, emotional support, and exclamations of encouragement, we were able to see Tom slowly emerge from his shell.
We witnessed a good-natured yet self-neglected man step out of his comfort zone. Tom learned to pay attention to his needs and take better care of his physical state by using daily SPF and a 'green stick' to counter his redness from Lupus, and alleviating his back problems with a new mattress.
As the Fab Five's "culture" expert, Karamo engaged with Tom in a way that allowed for reflective moments of poignancy. "What do you like about yourself?" he asked Tom to consider. Karamo had outlined his approach as a "mission to get [Tom] to a place where he [can] understand that you are not ugly, you are a beautiful man inside and out."
It is precisely this openness and earnestness that challenges pre-conceived notions of straight manhood.
In addition, Jonathan's goal "to teach Tom [that] it's okay to have a relationship with yourself, it's okay to care for yourself," in regard to incorporating a grooming or skincare regime into his daily life also serves as a significant reminder that physical self-care should not be considered a gendered activity, reserved solely for feminine identities. The first episode of Queer Eye worked fast to unravel and deconstruct several stereotypes and misconceptions of men — irrespective of sexual preference — such as when Bobby and Jonathan educated Tom on his reductive idea of traditional "husband" and "wife" roles in gay marriages.
The show also delved into current, pressing issues of race and police brutality. In the third episode, Cory — an ex-marine police officer and NASCAR enthusiast — found himself at the center of the Fab Five's makeover. Described as the "biggest redneck" by his nominator Henry, who is his best friend and fellow police officer, Cory's arrival in the show responds to a crucial conversation that society needs to be having right now.
The show's focus on themes of conservative religion, coming-out, homophobia, and acceptance revealed a string of emotionally struggling men — men who suffer under the very system that feminism actively works to challenge.
One scene in particular came alarmingly close to mirroring the frightening reality of police brutality in America, which often claims innocent and unarmed black civilians as its victims. When the Fab Five are pulled over by a police officer during a drive to Cory's house, the tension is palpable — especially because Karamo, an African-American man, is behind the wheel. "I'm wary about this type of cop," Karamo calmly mutters to the group. When he is unable to present his driver's license, Karamo is asked to step out of the vehicle and is questioned about the group's activities. However, the officer reveals himself to be none other than Henry, the instigator behind the prank — creating a tremendous moment of relief, and dumbfounding disbelief.
"You can't do that to brown people!" Tan, who is British-Pakistani, exclaims from the back seat. This event later sparked a meaningful dialogue between Karamo and Cory, as they discussed tearing down harmful stereotypes of each other, the call for real communication, human empathy, compassion, and understanding.
Karamo and Cory's moving conversation, as with every pivotal moment in the show, was tearful, unguarded, and beautiful.
It is an image that toxic masculinity rejects and seeks to suppress, but confronting any discomfort at the sight of male tears and how frequently they appear in Queer Eye serves as a reminder that a patriarchal world oppresses everyone.
The show's focus on themes of conservative religion, coming-out, homophobia, and acceptance revealed a string of emotionally struggling men — men who suffer under the very system that feminism actively works to challenge. Queer Eye illustrates the need to quash toxic masculinity, to show men that freely exhibiting emotions, feeling vulnerable, desiring to be loved, practicing self-care, stepping away from the pressures of 'bread-winner' roles, and self-acceptance are all valid and natural experiences of manhood that need to be normalized.
Later on in the week, as I re-watched a few episodes of the show with my boyfriend again, I took a quick glance and noticed that his eyes had started to water too. This time, it was my turn to grab more tissues. 
---
Related: