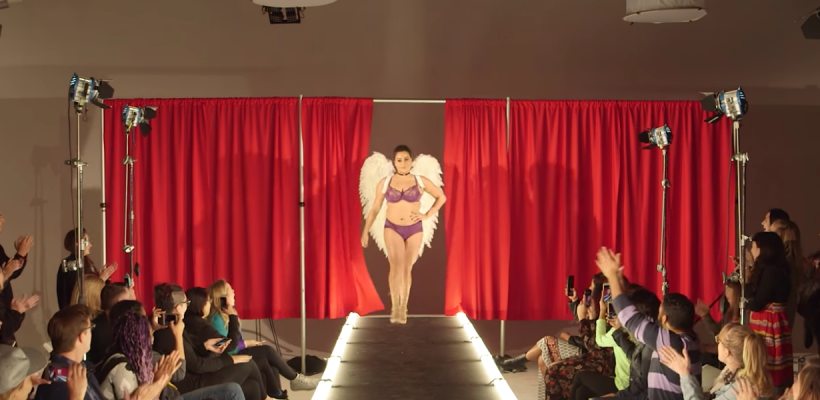 image credit: screenshot YouTube
So, millions of people every year tune in to watch the Victoria's Secret Fashion Show. It's on TV and it's this major event with jewel-encrusted bras and models wearing wings with thongs and high heels and women the world over nod their heads and say "Yes. That is a slice of my lingerie life. I always wear wings and strut around in my bra. WERK!"
Actually, nobody says that except for the highly paid models walking the Victoria's Secret catwalk. Which is nice work if you can get it, but Victoria's Secret is a limited opportunity employer. They have, what? Twelve models in the fashion show? What about the rest of us?
BuzzFeed asked that very question and decided that the rest of us are eminently capable of walking the runway in our underwear so WHY THE HELL NOT? They staged their own lingerie catwalk event, with models of all shapes, sizes, and races and it was ah-maz-ing.
The women involved were a diverse group of brave babes who volunteered to put on some pretty undies, get all glammed out, and walk the runway. They talked about their different levels of preparation, which included things like eating sweets and not bothering to shave. Then they hit the catwalk and owned it. Like WERK. Ferreal.
I have to confess that I'm a bit of a lingerie addict and I watched the video with my mouth agape repeating "I want that bra! I want that bra! Oooo, that bra! I want that!" Now, I currently own 17 bras and so the last thing I need is more but when I saw the credit to Curvy Couture for providing the lingerie, you can be damn sure I bookmarked that website for my personal shopping pleasure.
But the real message here is that these women had a ball! They got out there in full-on wings-and-heels glam and felt not only unashamed, but straight up awesome. They were so stoked that they hung out in their pretty skivvies backstage to keep the glory going.
You can get in on their fun with the video of the event. Or get into the spirit and put on some sexy little number and do your own catwalk strut. We can all do this!