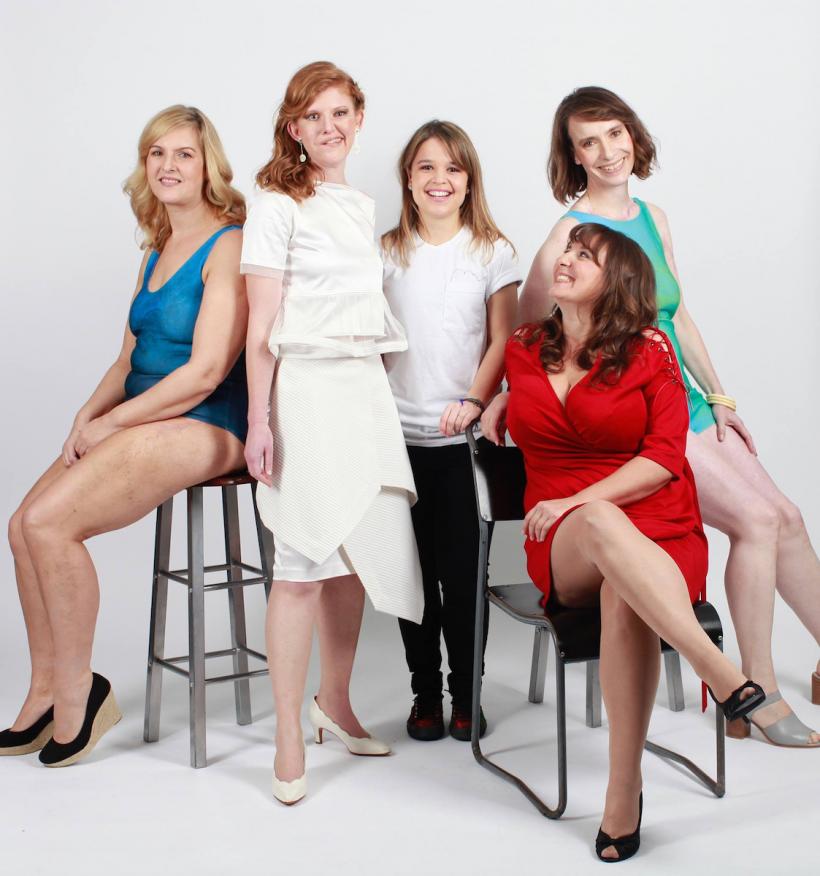 Photo: Abeer Al-Kubaisi, courtesy of MIGA.
When 27-year-old Maria Luisa Mendiola was born, she was diagnosed with Brachymetatarsia, a condition that left her with significantly shorter fourth toes. As a result, Mendiola spent much of her time trying to hide her feet, feeling immense anxiety over the fact that they were different.
"I was so scared that someone would notice that I would curl up my toes," Mendiola said. "The issue was that the more I tried to conceal, the more I called attention to it. So it was a hit or miss situation — sometimes someone would notice and sometimes no one would, but I would always be overanalyzing the situation, and it was exhausting. Psychologically, the toll of living with a secret — with a taboo — was the worst part of concealing."
Mendiola knew she wasn't the only one, either. In a 2018 report by Changing Faces, 1 in 10 people with physical differences reported feeling depressed about their appearance. Additionally, the study found that 1 in 5 individuals living with visible differences avoid being in photos and 1 in 6 avoid being in public altogether. 
"As I see it, long term concealing is unsustainable and not worth it," she says. That is why raising awareness about what it is to live with disfigurement is at the forefront of everything I do."
The work Mendiola is referencing is MIGA Swimwear, a swimwear line made specifically for women with disfigurement. After getting her master's (in fashion) at Central Saint Martins in the United Kingdom, Mendiola decided to focus on figuring out ways to lower stigma in the disfigurement community. 
Mendiola chose to design swimwear as a way to change the narrative surrounding societal beauty standards and physical differences.
"For most people, disfigured or not, wearing a bathing suit is very uncomfortable," Mendiola said.
This is particularly true in the summer, when the pressure to be fit and fit in is magnified. According to Mendiola, this leads to people who don't fit societal beauty standards to avoid places like the beach. "By using the part of your body that gives you the most anxiety as an inspiration for the pieces, we are immediately changing that perception."
As such, the swimsuits aren't just designed to be fashionable. They're also created with the specific needs of users in minds. MIGA's first swimwear collection, which Mendiola worked directly with burn survivors from the NY Presbyterian Burn's Unit to design, tell a story. "For one of the volunteers who has scars on her right arm and hand, I created a one-shoulder bathing suit with a glove," Mendiola told me. 
The process of creating the pieces wasn't just rewarding for Mendiola; it was also beneficial for her volunteers.
According to Katuiscia DeJean, a Brooklyn resident who underwent skin graft procedures after suffering third degree burns to over 10 percent of her body, the process of working with Mendiola to design a swimsuit that worked for her was straightforward. "I was measured, we discussed designs that I liked, [and] I was shown beautiful color swatches." From there, Mendiola created the custom piece. "It was liberating as well as exciting having a swimsuit specifically designed for me," Katuiscia added.
For some of Mendiola's volunteers, the swimsuit's design included covering the areas of the body that had been burned. Like Katuiscia, Helen (seen wearing the blue and green bathing suit), another one of Mendiola's volunteers, had scarring on her chest. To protect Helen's skin, Mendiola designed a high-neck bathing suit that covered the woman's scars. Though the swimsuit concealed the scarring on Helen's chest, the print on the fabric was actually inspired by a photo of the scars, celebrating the woman in another way.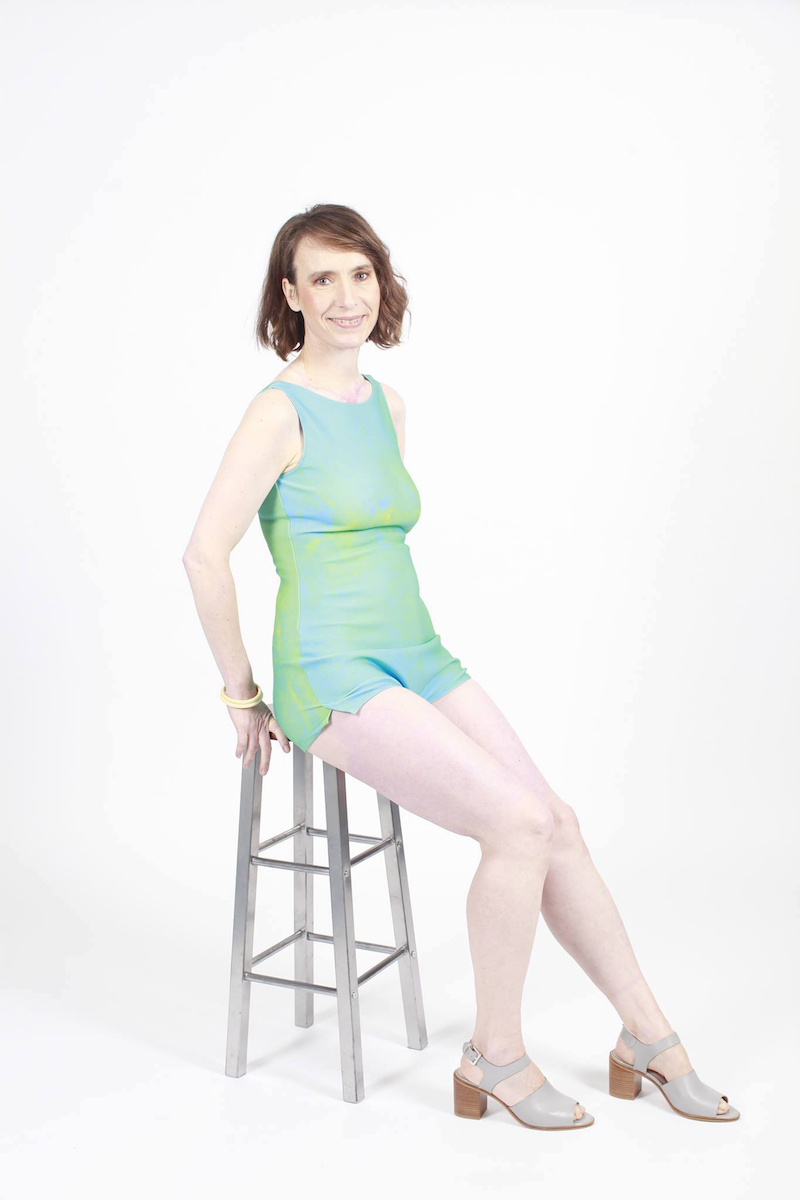 This highlights the very fact that a person's decision to either conceal or reveal their disfigurement is highly personal and often depends on factors like sun exposure and social stigma.
Though many of Mendiola's designs conceal volunteers' scars and other physical differences, the company's mission isn't about hiding what makes wearers unique. Instead, the bathing suits are designed to keep wearers both comfortable and safe. This includes mentally, emotionally, and physically.
"The US has stronger UV rays," Mendiola told me. Because of this, many of her volunteers needed bathing suits that covered their scars and skin grafts.  For this reason, the swimsuits are made with SPF 50 fabrics, providing further protection in visually striking designs. "The bathing suits are daring and bold," Mendiola said. "They might not disclose the actual scars but the intention behind them and the stories that come with the suits is what empowers our volunteers to tell their stories."
Volunteers' stories don't just empower the women on the packaging. The company also prioritizes education by connecting consumers with the stories behind the swimsuits. Each volunteer's story is also included on the packaging. "A big component of overcoming stigma related to appearance is knowing how to express the reason for the disfigurement and taking ownership of the narrative. Thus, each bathing suit comes with an insight into what it is to live with disfigurement, which we hope will also raise awareness and understanding amongst our shoppers that don't have such differences." 
This aspect of the company's mission further embodies the fact that people with physical differences don't owe anyone their stories. Instead, MIGA swimwear gives wearers the confidence and the tools necessary to tell their own stories if they want to. 
For Sylvia (seen below in the dark blue bathing suit), who has burn scars on her back, Mendiola first designed a suit that concealed the woman's scars. "But after our first fit, she was so excited about having a piece that celebrated her scars that she asked me to cut a circle in the back so that it could be more obvious that the print of the suit was in fact made from a photo of her scar," Mendiola told me. To help Sylvia continue embracing her body and her experiences, Mendiola decided to include a narrative centered around the woman's burn injury inside the swim suit. It was "to help her disclose if she wanted," Mendiola explained. 
The swimsuits are already making a difference for women with physical differences. Since her first fitting, Sylvia has gone on to become an advocate for people with disfigurement in the UK. Katuiscia has also found comfort in MIGA's mission. "It puts a temporary cover on a both physically and mental sensitivity I have," she said 
MIGA's new swimwear line is helping women like Sylvia, Helen, and Katuiscia come to terms with their bodies and feel comfortable being in their own skin.
"The skin graft area is a large, very present reminder of my injury," Katuiscia told me. And wearing a swimsuit that not only protects the sensitive areas on her body from sunlight, but also helps her to feel more like herself again. "Not being able to see it allows me to feel as I once did, without this huge marking."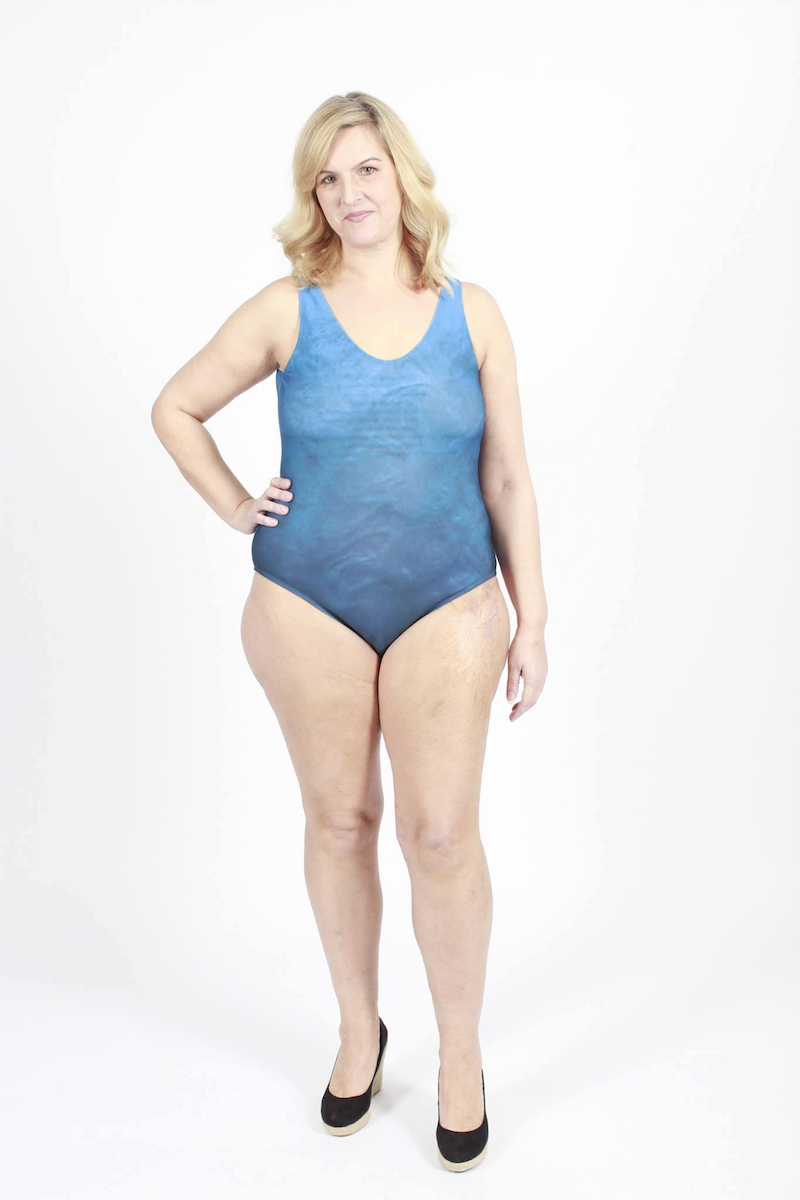 To make MIGA available for as many people as possible, the company is launching a Kickstarter campaign later this summer. "Ultimately, our goal is to create a group of self-love and self-acceptance that promotes empathy and awareness towards the disfigured community. My biggest hope is that women, disfigured or not, will feel empowered to share their own stories and feel more comfortable with their bodies," Mendiola said.  
To learn more about MIGA Swimwear and receive updates on their forthcoming Kickstarter campaign, please visit MIGA's website and subscribe to their mailing list.
---
Related: