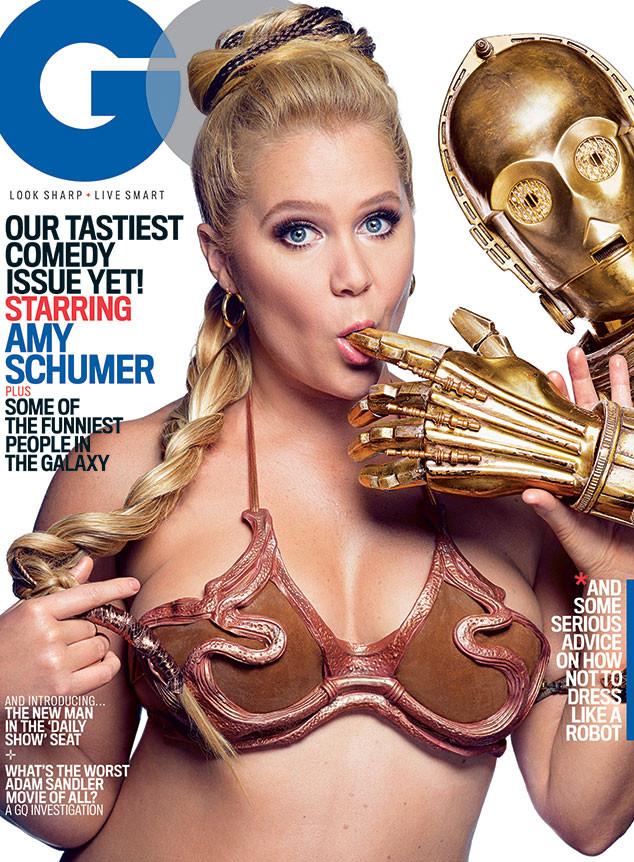 Our favorite comedian, Amy Schumer, is on the August cover of GQ celebrating one of her favorite films, Star Wars. But because it's Schumer, she can't do a normal homage to the legendary sci-fi series. No, our lady had to cause some drama — but, hey, it makes for a good story! 
Dubbed the "funniest woman in the galaxy," Schumer graces the cover dressed as the iconic slave Princess Leia sucking on C-3PO's gold finger. There's also a photo of Schumer simulating a blowjob with one lucky lightsaber. 
"I love Star Wars," Schumer said in an interview with ET. "My whole family is crazy about Star Wars. So we just nerd out all day."
Lucasfilm and Disney, however, said that they did not approve of the shoot. Twitter, as well, is ablaze with fury. It seems that some hardcore fans don't appreciate Schumer's fun. (We dig it, though.)
For the rest of the Star Wars-themed photo shoot, Schumer dances with the Stormtroopers Rockette-style, hops in a cab with Chewbecca and Yoda, parties in a leather bar with R2-D2, and ends the day in bed smoking with the droids. 
"That was a highlight. We all had sex," Schumer joked.
With her movie, Trainwreck, opening today, all eyes are on Schumer.