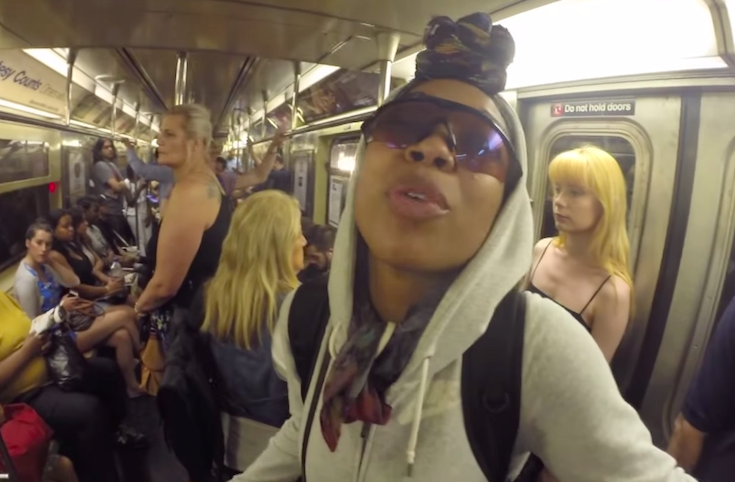 How can a famous singer belt out The Wiz on a NYC subway get zero love? Is it an East Coast thing?
Brandy Norwood — yes the Brandy of '90s music royalty — gave the underground an impromptu performance of "Home" from The Wiz with lackluster results. And you best not be thinking Brandy delivered a poor performance: the esteemed singer is currently starring in a Broadway production of Chicago as Roxie Hart (pssst: That's the lead). 
"Recently, Frank Silent and I took a little subway ride after I'd left the gym. Frank, his camera, and I always equal a good time," Brandy wrote in her blog. "I decided to hit the subway and sing my little heart out. You've GOTTA check out this video and see why this fun-filled morning left me asking: Can a Sistah get ONE fan?!"
After performing the classic, she asked the strangers, "What ya'll thought of that? Ya'll think that was cool? Hello?" One commuter replied to say that New Yorkers have seen that a million times and Brandy needed to do something different. 
Tough crowd . . .  
Now christening herself a New Yorker, Brandy blogged about her love for New York City.
"I've hung out in Central Park, Times Square, ridden the bus, and I've gotten accustomed to taking the subway too. I feel like a real New Yorker. I'm learning the streets and everything, y'all! There's something different about NY. The energy and the drive of the people is just DIFFERENT. I like it!"
Maybe that New York cynicism will kick in eventually.
We love you Brandy! Sing to us instead!