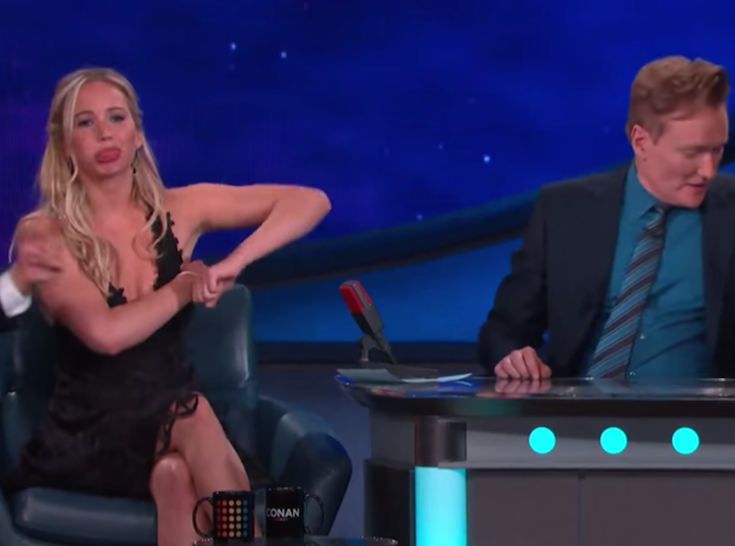 Is there anything Jennifer Lawrence can't do? I mean, really. The lady has charmed the pants off America, proved her amazing acting chops, and has proved to be a valuable advocate in the body acceptance movement. The Hunger Games actress introduced the world to another, fabulous side of herself when she gave a hilarious Cher impersonation on Conan after the late-night host tried to coerce her to sing. 
Surprisingly, singing is her biggest fear in the entire world after The Hunger Games released her "The Hanging Tree" song from Mockingjay: Part 1. It reached number 12 on Billboard, but J-Law said it would have made number one with her fart noises. (Probably true.) 
Her costars, Liam Hemsworth and Josh Hutcherson, told Conan that she's better at impersonations.
"What do you like to sing?" Hemsworth asked Lawrence.
"Cher," she responded.
And at that moment, Lawrence jumped into a flawless imitation of Cher's 1998 hit "Believe." (Sure you're afraid to sing, J-Law .) 
Not pitch-perfect, but Lawrence has a sense of humor.
In an interview with MTV news, she told the media outlet that she loved Hunger Games and wouldn't mind embarking on a new franchise. (X-Men series, anyone?)
"I know that I can't do another franchise again because these are so big and overpowering, but franchises are lovely," the 24 year-old said. "The group of people, we keep coming back and meeting, it's like school but in a lovely way, guaranteed pay check, which is rare in this business. I think they are nice."