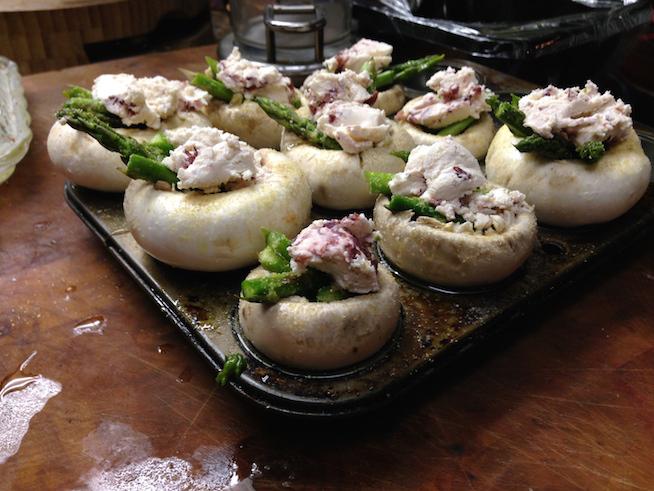 Tamarah's Gluten Free Stuffed Mushrooms with Goat Cheese, Bacon, and Asparagus
When you think of a gluten-free barbecues, you may not be filled with spectacular joy.
The terror. . . is overwhelming!
You may think of cardboard hamburgers or, even better, translucent quinoa Crock-Pot stews. You may think that 'gluten-free' is a gateway to kale salads. Everyone has culinary fears surface when they think of gluten-free barbecues, but they can be great!
Trust me: I am not a fan of bad food. I like good food, and I refuse to give in to bland, questionable dishes at barbecues. We should enjoy the meal, as we enjoy the fellowship!
I have celiac disease, which I can unequivocally say has improved my quality of my life; which is a weird thing to state, I understand.
"You can't have pizza? Or doughnuts? No french toast? No KFC? No burritos?!"
And I don't miss any of these. . . okay, I do miss flour tortillas. There is nothing like biting into the soft flour tortilla on a burrito. I have tried gluten-free tortillas, and they are all unconditionally terrible. But the rest of the items I am forbidden to eat. . . and I probably shouldn't be eating anyway.
Before I discovered I had celiac, I ate whatever I desired. Since discovering this autoimmune blessing (yes, blessing), I research what food I am not only putting into my body, but into my family's as well. I taught myself how to cook nutritious food from scratch that actually tastes amazing (these two do not always go hand-in-hand).
So, in the end, my quality of life, and cooking, is significantly better because I have celiac.
So, come. Come, my friends.
Enjoy these gluten-free barbecue recipes this summer.
Sides:
Goat Cheese, Bacon, And Asparagus