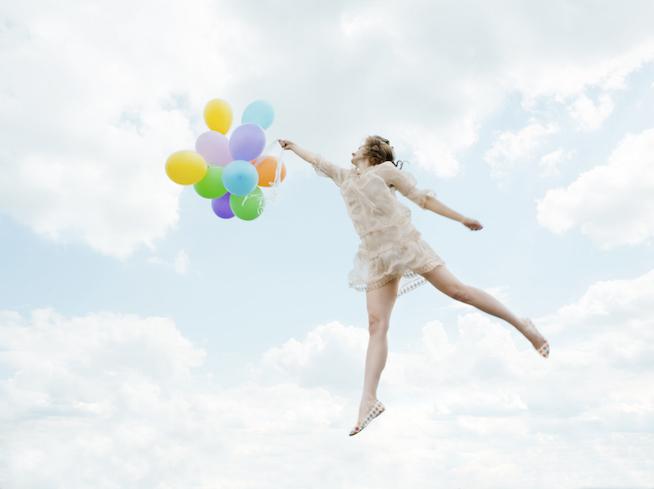 "Ladies and gentlemen, please fasten your seatbelts..."
Dear Winona,
I'd like some help figuring out the perfect outfit for traveling. My day-to-day style errs on the side of structured and semi-fancy (think flare dresses, high heels, layered necklaces, lots of rings, tailored blazers), which doesn't translate well to airport security and long flights. I'm sick of being uncomfortable and looking rumpled when I arrive at my destination, but I'm never going to join the velour tracksuit club. What's the middle ground?
Signed,
Flying In Style
Dear Flying,
I've totally done the velour tracksuit thing at the airport (with purple Ugg boots! I might need to repent to a priest for that one). I've also done the "dress super fancy and pretend I'm a Kardashian" airport ensemble, with leather leggings and high heels and a tight jacket and huge sunglasses and tons of jewelry. Both extremes are impractical and uncomfortable, if for slightly different reasons — the Kardashian outfit is tight and painful, while the velour tracksuit elicits judgmental stares and audible sighs. A stylish middle ground is indeed the best answer for traveling, but what does that look like? Here's a breakdown of some essential pieces:
Two words: Pixie Pants. If you don't have a pair of pixie pants, girl, you need to get a pair of pixie pants. A cross between leggings and slacks, made of stretchy ponte fabric for comfort, and cropped at the ankle to make you look like Jackie O on a casual summer outing to the coast, these retro pants are flattering and eternally fashionable. The best part? They'll not only look and feel great during transit, they're a versatile staple for your travel wardrobe too. Whether you're heading to Cleveland or Capri, you'll wear them constantly once you arrive. J. Crew originally popularized this style a few years ago, and their black Pixie Pants still set the standard for fit, cut, and style (how much do you love that zipper in the back?!). For a more affordable option, I also really love this gray version from Old Navy.
Look for structured pieces in wrinkle-resistant fabrics. For a tailored look that's not as likely to rumple, opt for shapes and structural details in travel-friendly fabrics like rayon, ponte, and cotton. This peplum tank top, for example, creates a fabulous hourglass shape and adds interest to any outfit (how cute would it look with those grey pixie pants?), but it won't crease or wrinkle in transit. Same with this wrap dress — stretchy rayon makes it ridiculously comfy, while details like a faux wrap front and gathered collar make it ridiculously chic.
Let your jewelry do double duty. Get the layered necklace look you love without a giant tangle of multiple necklaces with a layered-look necklace, which happen to be all the rage right now. How gorgeous is this one from Anthropologie?
Swathe yourself in cashmere. When it comes to warmth, comfort, and feeling luxurious, you can't beat cashmere. A soft, perfectly fitting cashmere sweater instantly elevates any outfit. I'm obsessed with the cross-back detail and beautiful blush pink color of this one. Again, with a pair of simple black pixie pants?! So chic!
Ballet flats (NICE ballet flats). Swap out your high heels for ballet flats, which are feminine and have an air of fanciness but won't kill your feet or take precious time to remove in the security line. To ensure you don't lose your signature fancy style in the shoe swap, there's a slight catch here: buy the highest quality ballet flats you can afford. If you can invest a hundred dollars in a gorgeous leather pair that fits you like a dream and will last for years, do it. If name brands are important to you and you have multiple hundreds to spend on a pair of Chanel or Lanvin flats, more power to you (and maybe you could grab a pair for me too?). The difference in look and feel of high quality ballet flats and $10 ballet flats is huge.
Have a fashion question you'd like answered in a future Off The Cuff column? Email me at winona.rose@gmail.com!