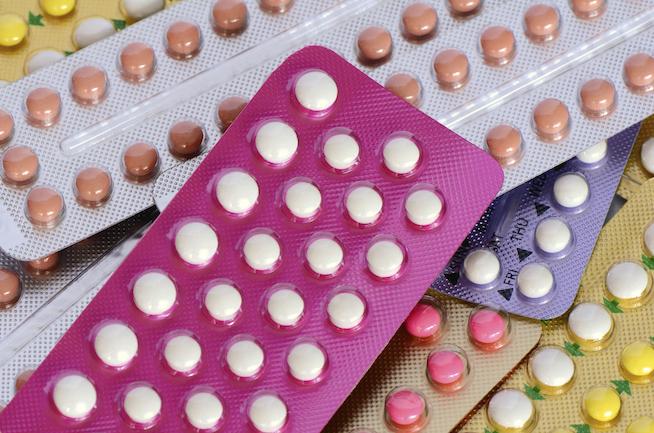 Although Obamacare exists, it doesn't guarantee that all women are actually insured. Whether your employer doesn't offer it (some small businesses are exempt) or the cost is too high for you, it can be frustrating when finances prevent you from taking control of your own body. Luckily, it doesn't have to be this way. Here are several safe, affordable, and incredibly convenient ways to obtain the contraception of your choice:
Over The Counter
As of January 2016, women in Oregon are actually able to buy birth control over the counter. However, it isn't as easy as buying other formerly prescription-only meds like Claritin. You can't just grab a box off the shelf, get in line, and buy it along with a bottle of nail polish and some paper towels. The law requires you complete a questionnaire so the pharmacist can determine which birth control is the best option for you. It might take a minute, but if you've ever seen how many different brands and types of birth control there are out there, you'll understand why this law makes a whole lot of sense.
One more caveat: you need be at least 18 years old. However, patients under 18 who obtain their first prescription from a doctor can get new ones from a pharmacist.
A similar law is supposed to go into effect in California at some point later this year. Hopefully, these states are starting a nationwide trend. Wouldn't that make life easier for every woman?
Nurx
Nurx is like having a birth control concierge at your fingertips. Using Nurx is easy, fast, and requires no human interaction. All you have to do is fill out a quick questionnaire. You can even let them know if there is a specific kind of birth control you prefer to use. A doctor reviews your answers, writes you a prescription, and then Nurx mails you a three-month supply. If you end up having questions or want to speak to a doctor, you can connect via phone, secure messaging, or even video chat. Nurx offers a huge variety of contraception choices including lots of brands of the pill, the patch, and ring, starting at just $15 per month. They also offer two types of emergency contraception, which is always good to have on hand, perchance you forget to take the pill. (Hey, it happens.)
And if you are worried about your package getting lost in the mail, Nurx totally understands. They will text you when your order is going out and give you tracking information. You'll even get a reminder text a month before you are about to run out. Now that's service!
While Nurx is only available in California right now, they are expanding to DC, Maryland, Virginia, North Carolina, Pennsylvania, Illinois, Tennessee, Ohio, Colorado, and Washington State in the near future. They ultimately have plans go nationwide, so if you aren't in one of those states right now, just know Nurx is working on it.
Teledoctors
Telemedicine can be life changing. It is not only useful for birth control, but for a variety of other medical needs (check it out, trust me on this). I've personally used Doctor-On-Demand and PlushCare, which work pretty much in the same way. You book a virtual appointment and talk to a highly qualified doctor over video chat. After you hang up, the doctor immediately calls in the prescription to the pharmacy of your choice. The entire process takes fifteen minutes at the most. Doctor On Demand and PlushCare aren't the only providers offering these services, so if you are not in one of the states they cover, there is probably another telemedicine service that does.
GoodRx
GoodRX is an app and website that tells you how much your prescription costs at all of the major pharmacies in your area and how much you can reduce the price by using their coupon code. The cost of drugs can vary greatly by pharmacy; some meds cost $9.99 at one pharmacy, but twice as much across the street. This is an absolutely indispensable app for uninsured people who need to pay for their meds out of pocket.