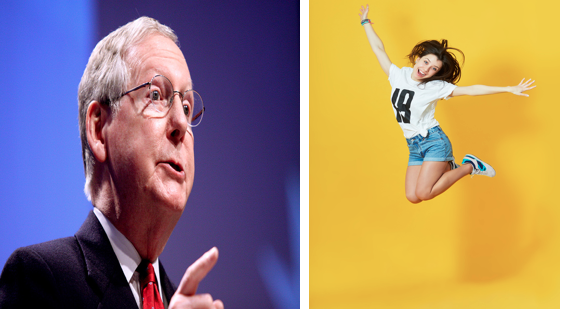 The Senate isn't interested in taking care of people, but teenagers are doing a darn good job taking care of themselves.
Today, Mitch McConnell finally decided to let some sun shine on the super-secret health care bill he and some other white guys have been working on for the past few weeks. The contents of the bill have been kept under wraps because neat Republicans don't want to be yelled at by their constituents. But no secret can last forever and the so-called discussion draft was made public today.
I know what you're asking: Does it suck? Yes.
I haven't done a deep dive on the analysis yet, but what I gather is that it cuts payment assistance for people buying plans on the marketplaces; it slowly kills off funding for the Medicaid expansion; it cuts the taxes on higher end plans that are used to pay for the subsidies and Medicaid expansion; and, it gets rid of the notion of "essential health benefits" that all plans have to cover. It also defunds Planned Parenthood.
You can read more details in this great explainer from the Washington Post. I'm sure there will be more analysis as the day goes on. Meanwhile, give your friendly neighborhood Senator a call and let them know what you think about cutting health care access for poor Americans. Let's get those phones ringing!
But because I hate to wallow in bad news, here's something in the world of health and bodies that is a positive development: teens are more apt to use contraception now than in the past.
Yay, smart teens! Way to take care of yourselves, teens! We salute you!
The Centers for Disease Control and Prevention have a new study out this week showing that abstinence among teens is not on the rise, but the use of contraception — even for sexual first-timers — is increasing. Between 2011 and 2018, a whopping 81 percent of teen girls used contraception the first time they had sex. And boys during the same period reported using condoms the first time they have sex.
Girls have gotten the message about emergency contraception, too — 23% of teens reported using it, as opposed to only 8% back in 2002.
And finally, long acting contraceptives like IUDs and hormonal implants are on the rise for teens. Nearly 6% of teens have one or the other.
So, the overall health message of the day is that the Senate isn't interested in taking care of people, but teenagers are doing a darn good job taking care of themselves.