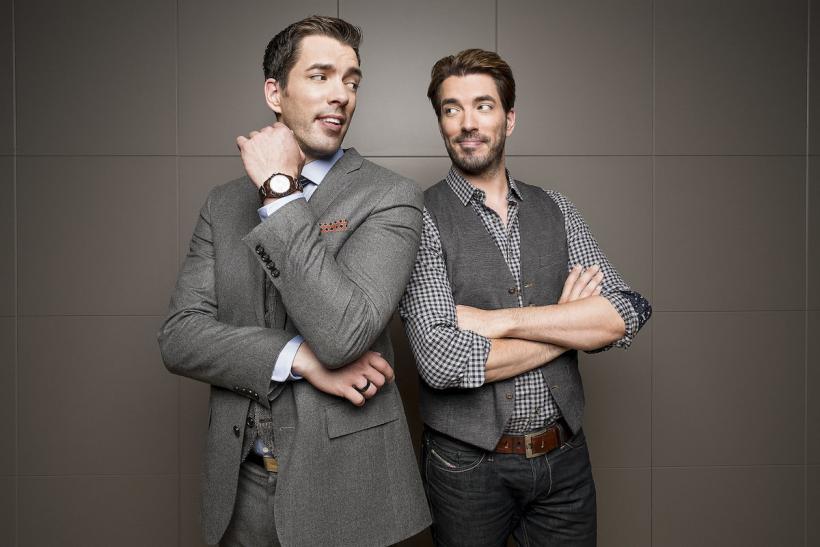 Is that a sledgehammer in your pocket, or are you just happy to see me? Image: HGTV.
Who's your favorite of the brothers Scott? 
The HGTV show "Property Brothers" is a source of endless design inspiration and sexual fantasies.
The former is due to the gorgeous real estate listings and impressive home renovations featured on the show. The latter is due to Jonathan and Drew, the beautiful twin brothers who host the show.
Both brothers are charming, likeable, Canadian, and possess enviable bone structure, but fans of the show tend to have a clear favorite: You're either into Drew, the suave, clean-cut real estate agent, or Jonathan, the rugged, metrosexual contractor.
After polling friends and conducting in-depth psychological analyses, I've come up with a profile of the types of people who tend to favor each brother.
What does your preference say about you? Read on to find out!
If Jonathan is your favorite:
You have a Pinterest board called "Gettin' Crafty" and you actually do the tutorials you pin. You love working with your hands and seeing the results of your hard work, whether you're making a loaf of bread, tinkering with a broken lawnmower, or building a new deck. You had a succulent garden planted in up-cycled containers way before it was trendy. Your car is always a mess, but your hair always looks amazing.
You're quick with a joke, and have a wide circle of friends who alternately cringe and laugh at your frequent humorous comments and wide array of earnest knock-knock jokes. At parties (which you're invited to often, you charmer!), you're not necessarily the center of attention, but you always have a small group of people circled around you, hanging on your every word.
In your relationships, you like to be the caretaker, surprising your partner with gorgeous meals, gifts, and spontaneous date nights. You like giving massages almost as much as you like getting them. There's never not a bottle of cheap champagne in your fridge, because you never know when something will happen that deserves a celebration.
And boy, do you love to celebrate — you consider everything from a new job to a sale at Nordstrom a worthy cause for poppin' open some bubbly.
Your ultimate dream is to sell your house and travel across the country in a restored Airstream trailer, creating the itinerary as you go, and drinking hot chocolate out of a vintage thermos while watching the sunset every night.
Ah, bliss!
If Drew is your favorite:
You're career-oriented and driven: Your 5-year plan is written down in a black leather journal you keep in your bedside table, and you go to sleep every night dreaming about what you can do better tomorrow to get closer to your goal.
At work, you bust your ass on the daily and are rewarded accordingly. You get promotions handed out to you like candy thrown from a parade float. You're not shallow, but certain status symbols are important to you: You like to dress nicely, drive a good-looking car, and have a job title on your business card that makes an impression. If you're more stereotypically masculine, you might favor bow ties over ties. If you're more stereotypically feminine, you might prefer heels to flats.
You can definitely be a bit of a ham, but there's an underlying grace and class to everything you do. Your home is always clean and perfectly accessorized. You have one of those vintage-inspired bar carts in the corner of your dining room that's stocked with an impressive selection of bourbon. There's definitely a deep maroon accent wall somewhere in your house. You use your high-end gym membership mostly for the sauna. Your slippers cost more than most people's normal shoes.
You're a strong person — especially at work, where you never show weakness — but at the end of a hard day, you like to be taken care of in your relationship.
Your idea of perfect happiness is your partner greeting you at the door with a glass of red wine. You love to be pampered at every opportunity, and your ideal gift would be a spa day. Bring on the organic lavender oil detoxifying facial!
So, did we hit the nail on the head, or did we miss? Let us know in the comments, and spread that good-looking Canadian love!