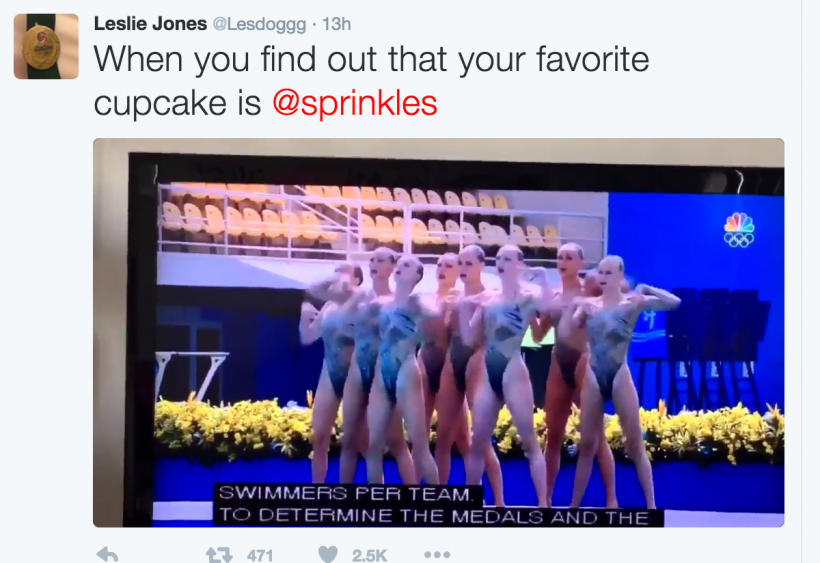 image courtesy: Leslie Jones' Twitter
What's the greatest achievement of the Rio Olympics? Is it the success of Latin America's first host nation, Brazil? Is it the extraordinary feats of the US Women's gymnastics team? Is it the spellbinding brilliance of Usain Bolt's superhuman speed?
Or is it perhaps the Twitter feed of Leslie Jones?
The Saturday Night Live cast member and co-star of Ghostbusters has hit a career stride. At 46, Jones became the oldest person ever hired by SNL, and her success there justifies the choice. Jones brings an unselfconscious swagger to her performances, devoid of the self-deprecation employed by typical 21st century comedians. Jones is bold.
Witness her Twitter account of the 2016 Olympic games. Beginning on August 3rd, Jones began live-commenting via 10-second voice-overs while filming her television, and regular all-cap exclamations of raw competitive emotion.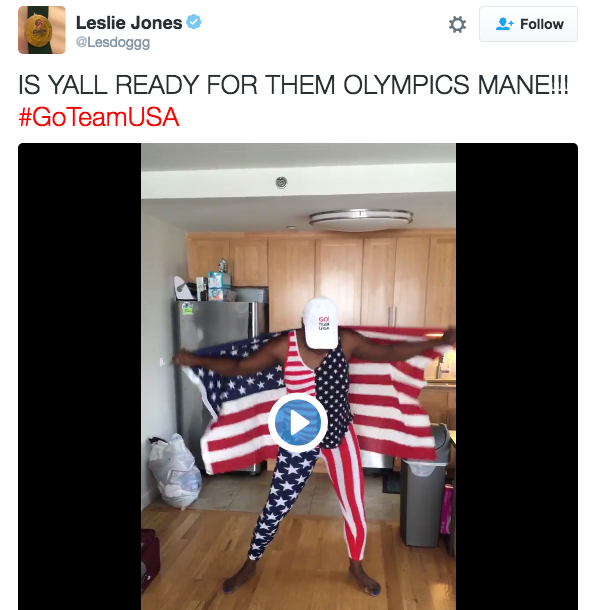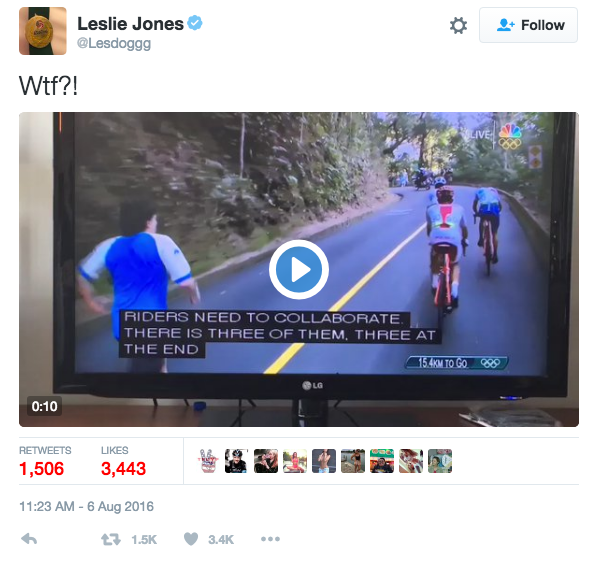 It is difficult to imagine a more enthusiastic fan. But for the secret Olympicophile (I'm familiar with the condition), the willingness of Jones not just to watch lesser-known sports, but to say out loud the inevitable questions we at home are all wondering, well… that might be the secret spice that led Jones' Twitter coverage to explode on a national level: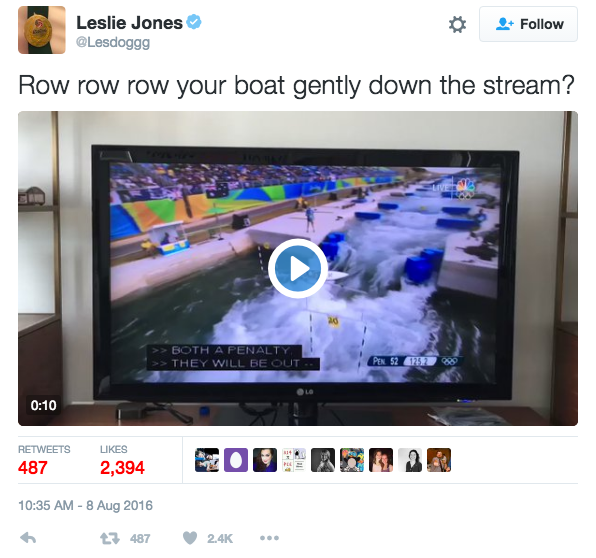 NBC took note of the comedian's unique, and uniquely appealing, Olympics coverage, and decided to send Jones to the actual games. Her response was characteristically dramatic: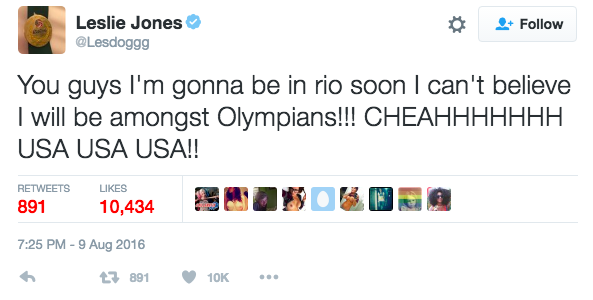 And Jones' fandom is totally infectious. See if you can get through this montage, put together by MTV, without both a) smiling and b) turning on the Olympics. I dare you:
.@Lesdoggg is having more fun than anyone else at the #Olympics https://t.co/MDdEoABJu5

— MTV News (@MTVNews) August 19, 2016
But what makes Jones' Rio story gold-medal-worthy is that it has been the Olympics that brought her back in force to Twitter, after an onslaught of trolling (following the Ghostbusters release) caused Jones to delete her account.
♦♦♦
The decision by director Paul Feig to cast all women in originally male Ghostbusters roles was an intentional one. And Feig, along with the actors themselves, met with plenty of online nastiness.
But Jones became a particular target for the Twitter mob, in part due to the fact that she is not only a woman, but a Black woman. Recently, Jones shared with Time magazine that her Twitter was filled with racist, sexist slurs, and her email inbox flooded with detailed descriptions of how she would be killed. This is extreme stuff, and Jones had an extreme reaction.
On July 19th, she deleted her Twitter account, signing off by saying, "I leave Twitter tonight with tears and a very sad heart. All this cause I did a movie. You can hate a movie, but the shit I got today… wrong." 
It's been open season for Twitter trolls lately. Just ask anyone who openly opposes Donald Trump. But in Jones' case, some good came of her willingness to go public with her bullies' comments, and her own emotional response. Head troll Milo Yiannopoulos, the ringleader of the Alt-Right movement, was permanently banned from Twitter. 
Undoubtedly, though, the greatest outcome of Jones' Twitter saga has been her triumphant return to that social media forum. And not just with smart and snarky comebacks. But with a joyous celebration of the USA kicking absolute butt.
And the ridiculous coolness that is synchronized swimming. And the wondrous oddity of Trampoline as Olympic sport. And the epic feats of Michael Phelps. 
Jones proves she is not just a gifted comedian. It is an act approaching love to extol the accomplishments of people besides yourself. Not just to stand amazed, or dutifully applaud, but to get down and really celebrate their wins as if they were your own. 
After so much hate, Jones' choice to come back with such relentless positivity is straight-up inspirational. 
So for your center podium Olympics consideration, allow me to present: Leslie Jones on Twitter.