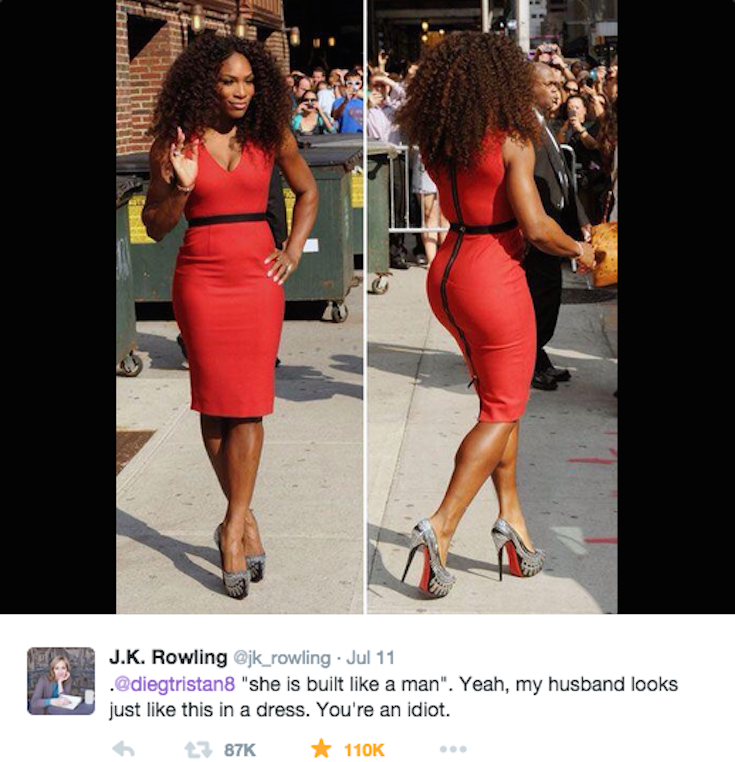 J.K. Rowling, the fairy godmother of our childhood and the author of a little franchise called Harry Potter, defended obliterated a troll who tried to critique Serena Williams. (Who, BTW, is the sixth straight Wimbledon champion as of Sunday.) 
Rowling was among the thousands of celebrities who congratulated Williams using the hastag, #TeamSerena. The author first tweeted, "I'm #TeamSerena today, because you don't meet many super-talented people nicer than she is. Go @serenawilliams!"
Rowling gave more accolades via Twitter. Who knew the lady was such a tennis fan? 
I'm #TeamSerena today, because you don't meet many super-talented people nicer than she is. Go @serenawilliams! pic.twitter.com/KHDYNCt6Ls

— J.K. Rowling (@jk_rowling) July 11, 2015
Aw, how sweet. And it was until a troll, @diegtristian8, wrote "ironic that the main reason for her success is that she is built like a man."
Hmmm . .  . Not sure what that means, but Rowling responded on Twitter with the above photo and this cutting remark: "@diegtristian8 'she is bult like a man'. Yeah, my husband looks just like this in a dress. You're an idiot."
Put a spell on him, Rowling!