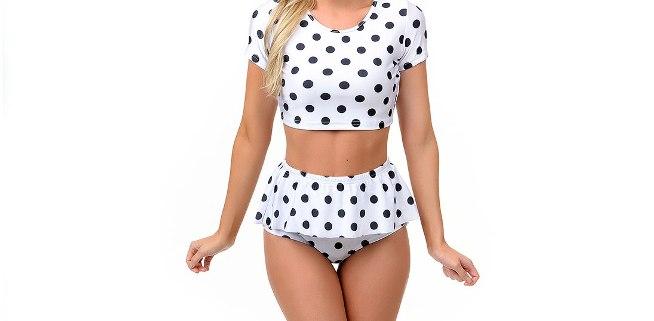 via <a href="http://www.unique-vintage.com/black-white-polka-dot-ruffled-crop-top-two-piece-swimsuit.html">Unique Vintage</a>
Ah, the bikini. This top-and-bottom duo has been a symbol for summer since July of 1946. Over the years, the bikini has gone from slightly sassy to . . . well, leaving very little to the imagination.
In these dog days of summer, it's hard to get by without a bikini. But what do you do if you want to look hot, but keep covered? Despite the body-positive movement being at an all-time high, there are still women of all shapes and sizes who aren't completely comfortable baring it all at the beach. That's OK! What's not OK, however, is how hard it is to find a modest bathing suit that isn't a heap of unflattering fabric.
Summer's halfway over. If you haven't found a two-piece you love yet, we've rounded up this quick list of bikinis that pull double-duty: they provide a little extra coverage, but are also cute. If you want to flaunt what you've got, but not, you know, all of it, be sure to add one of these suits to your summer arsenal.
For Arm Coverage: Black & White Polka Dot Ruffled Crop Top Two Piece Swimsuit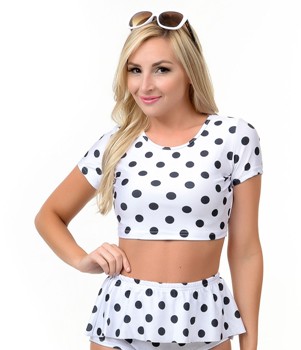 Swim tops are a highly underutilized a pool option. They aren't just for surfers! This retro-meets-modern swim ensemble will have you looking chic without baring it all. If you're planning on going out before or after a day at the beach, just bring a skirt or high-waisted pants for an instant land-worthy outfit.
For Shoulder and Stomach Coverage: ModCloth's Savor the Sunshine Swimsuit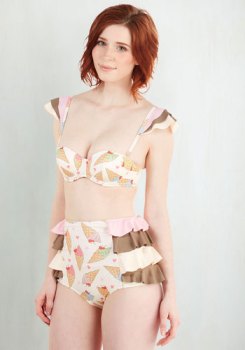 Most bikinis have a halter style-top, but this patterned two-piece has dainty, Neapolitan-colored ruffles for straps. If you're a little insecure about your shoulders, this provides an excellent silhouette, and let's be real . . . nothing screams summer like ice cream.
For Boob Coverage: Bombshell Swimsuit In Black And White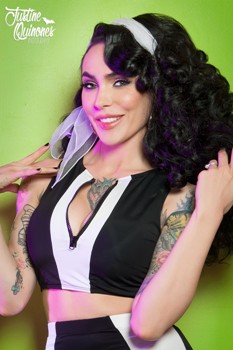 Keep it 1960s sultry in this high-collared number. The zipper on the tank allows you to control how much you want to display in the cleavage department. If you've ever dreamt of being a Bond Girl, this may be the suit to fulfill those fantasies in (just make sure to pair it with some oversized white sunnies for the full effect). 
For Boob And Butt Coverage: SugarDoll Swim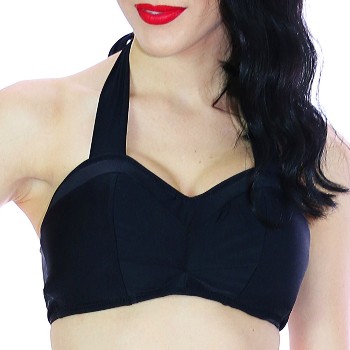 We can't pick just one. SugarDoll Swim bikinis are a gorgeous option for bigger-busted ladies who are looking for full-coverage tops. The coordinating bottoms are high-waisted and stop just above the belly button. Modest about your backside? There are swim skirt bottoms also available to provide additional coverage!
For Shoulder Coverage: Vintage Style Red & White Stripe Cap Sleeve Swimsuit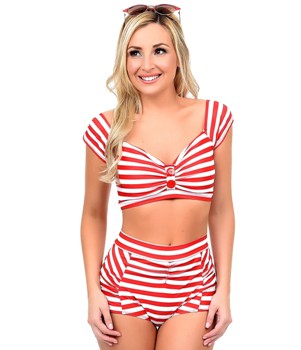 If you like playsuits, then you'll love this little striped number. The capped sleeves and sweetheart neckline provide ample coverage for all your lady bits, no matter their size. The gathering along the bottom of the suit will hug even the most petite curves, giving you a pristine hourglass shape.