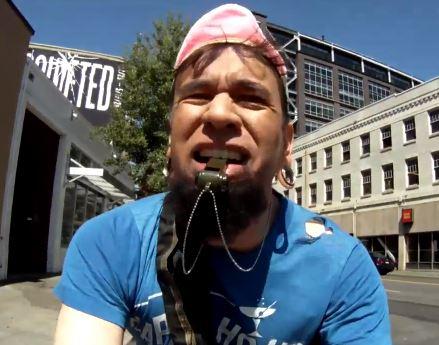 It's that lovely spring floral and festival season and we are officially in a perfect Goldie Locks type weather situation: not too hot, not too cold, but just the right climate for biking. But it's not only the weather that is causing more and more people to say buh bye to driving and swing a leg over to make the switch to cycling. Health and environmentally conscious citizens are making biking a norm in cities all across America. Laws are even being passed to dissuade "rogue drivers [so]  that they will be held accountable for their antisocial road behavior."
So what are the most friendly cities when it comes to cyclists, be they 10-speed warriors or casual cruisers? Curiously, (or perhaps not so curiously) many of these bustling and hip havens are also home to some of the most efficient public transit systems as well.
Here are nine of the most bikable places to be:
1. Portland, OR
A city at the top of many a-bike-friendly list. It's city hell-bent on keepin' it clean and green with almost 80 miles of off street paths and a whole 180 miles of bike lanes to take you to and from your ride with the World Naked Bike Ride (as pictured above), an x-rated feminist open mic night or your adult kickball team practice.
2. San Francisco, CA
You'd think all those hell-no hills might discourage cyclists, but nope! There's always, always some bike worthy activity goin on in the city. Since 2010, SF installed bike-right-of-way traffic lights, added 20 miles of bike lanes and set up 25 bike corrals. Oh and of course there's the monthly bike parties and the (way) more aggressive, critical mass movement.
3. Chicago, IL
Home to some of the nation's best jazz and more bikers than drivers during rush hour traffic! Cyclists account for over half of the average rush hour grind. Dang.
4. Boulder, CO
Woot! Boulder is one of the highest ranking cities when it comes to the amount of US bike commuters. It also has a rad bike park for people of all skills and bike talents.
5. New York City
New York's Citi Bike, kinda like Zipcar for cyclists, is home to 10,000 bikes with 600 locations to pick up/drop bikes off! It's the largest bikeshare system in the nation.
6. Washington, DC
I pledge allegiance, to the bike . . . ridership in our nation's capital made an 80% leap right before the millennium turned 10. With over 1,600 bike racks and a booming bikeshare program DC is helping to lead the nation—in bikability.
7. Minneapolis, MN
Home to the Twin Cities Marathon, Minneapolis is yet another hub that boasts one of the highest percentages of bike commuters in America. The city is also home to a handy bike contraption called Pedal Pub . . . you and your friends will never have to argue about who'll be DD again.
8. Tucson, AZ
This desert town has more than 620 miles of bike lane—the most in the nation! It's also got tucked away mountain trails to get you off the steaming streets and into the desert hideaways.
9. Austin, TX
This list started with a city that's proudly weird and we're gonna end it with just as much off-beat pizzazz: say hello to Austin! These loud and proud weirdos of this Texas oasis is home to one of the best examples of the nation's bright beautiful bike lane future. The creative cogs of the cyclists' minds spin so much it's a literal zoo of proudly peculiar Austinites on parade.
Image Credits: IFC via YouTube, Wikimedia Commons,  Bhautik Joshi via SF List, Wikimedia Commons, Boulder Theater website, Wikimedia Commons, Wikimedia Commons,  Wikimedia Commons, Wikimedia Commons, Austin Bike Zoo website.