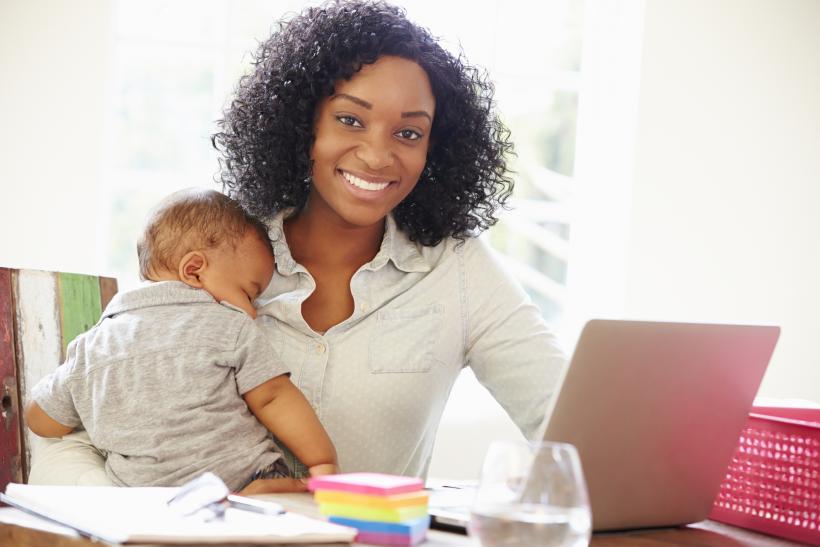 As my son's first birthday approaches, I can look back with wonder and gratitude for the lessons I've learned through mompreneurship.
This article was written by Pia Schiavo-Campo of Chronicles Of A Mixed Fat Chick and has been republished with permission. 
---
Less than a year ago, I became a mother under rather surprising and serendipitous circumstances. To make a very long story very short, my husband's pregnant cousin was having a baby in early May of last year and planned to give him up. When the original adoption fell through three weeks before the birth, she called to ask us if we were interested in adopting him. After years of trying unsuccessfully to conceive, this incredible news felt like nothing short of a miracle. So, three especially nerve-wracking weeks later, I found myself in a Seattle hospital room catching my son as he left the safety of this birth mother's womb and entered the world into my arms and my full heart.
It was epic! It was also scary, new and confusing. But it felt so right.
With just three weeks notice our lives were turned upside down. I had just begun working with the social impact marketing agency, Momentum Solutions when I had to deliver the news of this big life change. Most notably that I was not going to be able to give it my "all" with a newborn to care for.
In the eleven months following my son's arrival, I birthed three key lessons of mompreneurship, which by the way is a word to describe a woman who is actively balancing the role of mom and entrepreneur.
ASK FOR WHAT YOU NEED. 
Parenthood is not for the faint of heart. And if you are a parent, you're probably nodding vigorously or laughing in solidarity or perhaps shouting, "AMEN" as you read this. And I get it. Boy, do I get it. Add motherhood to entrepreneurship and you've got a recipe for, well, a souffle of surprises. Before having a caregiver for my son, I recall having to mute my phone during conference calls on many occasions when my little guy was having a complete meltdown in the background. I quickly realized that I was going to have to be really transparent with my colleagues at Momentum Solutions about it, and they were more than understanding. In fact, Co-founders David and Liza, whom both have kids, supported me by coming up with strategies for getting the work done despite the challenges I faced as a new mom. It is that kind of flexibility that has helped me to find balance amidst the chaos. I leaned into the unknown and asked for what I needed — both at home and at work. I continue to show up knowing that transparency and asking for what you need is the only way forward.
WORK WITH PEOPLE YOU LIKE.
I've had the privilege of working with some amazing people over the years, many of whom remain close friends. But I've also worked with and for folks who tested my patience, my sanity, and who even made me question my ability. At this point in my life, I am very clear that whom I work with is just as important as the work itself. My colleagues at Momentum aren't just smart and motivated, they are also hilarious, adventurous and kind! When they asked me to become a partner, I was blown away. Not just because it affirmed my strengths and gifts, but because I was becoming part of a family committed to having fun while getting the work done. I also love our clients. Whether it's a nonprofit, a foundation or a business with a social impact, knowing that we share similar values makes the work that much more rewarding. So when you find that happy place, you have to celebrate — and boy do we know how to do that really well!
TAKE TIME TO RECHARGE YOUR BATTERIES.
No matter how much you like your work, we all need a break. As a mompreneur, I was desperate for some time to myself. A week free of responsibility and stress had to happen. By some stroke of luck and timing, I was offered a free place to stay in Paris by my cousin who owns a place there. My first thought was there is no way I can be away from my child for a week. My second thought was that we had a new client at Momentum, and the timing was not ideal to be away. With the support and encouragement of my amazing husband and my colleagues at Momentum, my dream for time away became reality. I boarded a Norwegian Airlines flight with my best friend and spent a ridiculously amazing week in the city of lights. I admit to having a complete meltdown on day two when looking at photos of my son. But I recovered quickly and spent hours walking, healing, eating, inhaling the city. It's true what they say: you can't be of use to others if you don't first take care of yourself. So work hard, hustle for good, and leave some time for you and your family too!
Being a part of the Momentum Solutions team has allowed me to bring all my gifts to the table. Transparency, compassion, active listening, flexibility and humor are my tools at work and at home. As my son's first birthday approaches, I can look back with wonder and gratitude for the lessons I've learned through mompreneurship. It was a bold endeavor, one I wasn't sure I would survive. But here I am, finding a way to change poopy diapers and also meet client needs with as much grace as I can muster. It's not easy, but I wouldn't have it any other way.
---