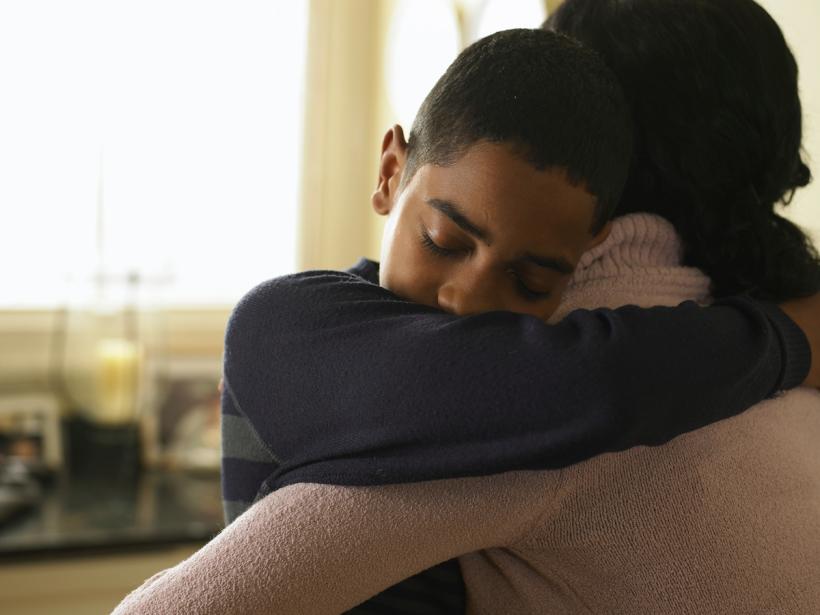 There's a part of me wondering if having one more child might be a little selfish.
This article first appeared on Mamamia and has been republished with permission. 
---
I've always wanted four children. I'm not sure why. Probably because I am one of four, maybe because my daughter Caterina, 7, is desperate for a sister. Although, I did explain that it might be a boy and she said that would be okay, but that if it was a boy she would be happy as long as I bought her a rabbit. Then after a moment, she added that even if the baby is the baby sister of her dreams she would still like a rabbit, but it could be a boy or a girl.
I wouldn't blame you for thinking that it was the rabbit conversation that gave me pause when it comes to having another baby. What is really giving me pause is the fact that my second child, Giovanni, 8, is special needs. It's difficult and expensive. We have no idea how his life is going to be and how best to help him.
Add to that my "extra needs" first child Philip, 12, whose food allergies guaranteed his first few years of life were as terrifying as possible.
And still I want another child.
There are other factors. I'm 40, I'm busy, my husband is busy and my family would freak out if they knew. Well, they know now don't they.
SURPRISE!
I've just always wanted four kids. And my parents have nine at the moment. 10 is a much nicer number.
We've been trying for a few months with no success. I am 40 after all and I know my chances of falling pregnant are incredibly slim. I just know I want to try. I have babies on the brain and if I'm to stop forcing random babies at the shopping center to smile at me, I think I need to have one of my own.
Just one more.
Giovanni has Autism Spectrum Disorder (ASD). He was a quiet baby, solemn, happy to play on his own. But I didn't suspect he had autism until the age of four. He was formally diagnosed at seven. He needs extra help each day doing basic things such as drying himself, dressing, and brushing his teeth. He is a big boy and a bit rougher than he means to be. He's my "forever baby"…there will always be a part of him that needs me, even into adulthood. I imagine him living much like Kathy Lette's son Julius, 25, living a few doors down from her and splitting his time in between the two residences.
But I just feel that one more baby would truly complete our family. And I think Giovanni would love it. He's so curious about how the human body works, watching YouTube videos of orthopedic surgeries. Once he came to me and said, "Mum, I can't remember any of us in your tummy and I wonder what it was like. Can you have another baby and I can see what it is like?"
I explained that we were pretty busy as a family as it was and that I wasn't sure another baby was the best idea, but now that he's responding to treatment, his school for next year is sorted, and his occupational therapist is helping me navigate the daunting journey that is autism-parenting, I feel like I want just one more human.
A baby could come to all of his appointments with me and play in the waiting room while he does his session. I can see him paying more attention to a baby sibling than he does to anyone else. Maybe he'll even maintain eye-contact with them, instead of his eyes darting away after just a few seconds.
And the truth is that when we had our first three children we were under such incredible stress I don't feel as though we fully enjoyed each of our children when they were babies, not that they remember.
My fear is that I won't have as much time to give my existing children and in particular, Giovanni, as much attention as he needs, will always need. And then there is my deepest, darkest fear.
What if I have another special needs child?
The chances are quite high, particularly at my age, however I think that at this stage I'm a pretty awesome special needs parent. I don't think I'd freak out as much this time because I've already coped with so much.
Just one more baby. Maybe I could even have a vaginal birth this time.
I have a beautiful, wonderful, perfect life made better by extra needs, special needs, and the demands of my demanding daughter, not to mention my husband who currently has five children in total (his first two now fully grown men and from his first marriage). He's up for it and needs no convincing.
It may not happen - I am 40 after all  - but it might, and there's a part of me wondering if having one more child might be a little selfish.
---
More from Mamamia: