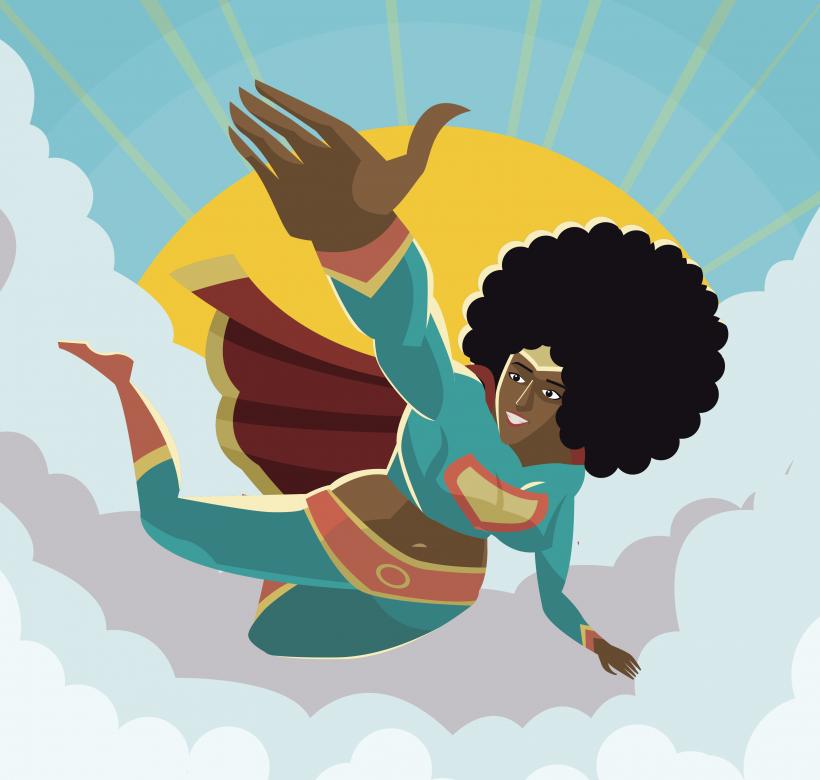 Black Female Superhero
In early February, like much of the rest of Black America, I clamored into a crowded movie theatre rocking my Storm t-shirt, brightly colored Zulu earrings from South Africa and a cross body bag to match. I was ready to see Black Panther and I felt empowered.
Why?
I, as a Black woman in her late 20s and a comic book lover, was finally getting a chance to see other beautiful Black women portrayed in a Marvel movie. I can probably even argue that I was even more excited to see the movie, knowing there were so many black leading women, than I was to see Black Panther himself.
Marvel is not new to having African American male heroes. Superheroes like Black Panther, Luke Cage, Falcon, Captain Universe, War Machine, Nick Fury, and Bishop shed light on the growing diversity that has hit the comic book world since Black Panther first appeared in the Fantastic Four #52 in 1966. In 1998, Blade was Marvel's first superhero movie, featuring a black hero. However, when I was 10 years old seeing Blade for the first time in theaters, it didn't register to me as being a Marvel movie. It lacked the quintessential Marvel opening. Nonetheless, this was, in fact, one of the first "Black" Marvel films.
When I got older, The Avengers, Thor, Guardians of the Galaxy, and the subsequent movies started to hit the screens, creating this Marvel fandom we now see today, but I was just starting to discover who Black Panther was.
My understanding of Black Panther was also coupled with my fandom of Storm, the first superhero I could identify with. It helped to know that Storm was married to Black Panther and opened me up to the world of Wakanda — a fictional country in East Africa filled with people who were thriving off the world's most powerful natural resource, vibranium.
This was a juxtaposition to the narrative of African people that Americans have typically seen. An entirely different view of the beauty of blackness. In regard to Black women, usually what we see in movies are stereotypical Blaxploitation, minimal portrayals of dark-skinned women or us serving as sidelines to a male leading character's (i.e Mission Impossible, Kill Bill Vol. 1, 007). This is the first time a fictional movie has portrayed Black women as strong African warriors. It almost reminds me of the Amazon warriors in Wonder Woman.
When I saw Wonder Woman, it felt as if I got a glimpse of what could be true of us, too: that we are strong, powerful, resilient and bad ass.
What I didn't expect was for Black Panther to so effectively fulfill that desire within me. I saw depictions of strong Black women, similar to what I have grown up around. My mother was a strong woman, grandmother, and great-grandmother. Just like in the movie, there was a clear lineage of strength from T'Challa's mother Ramonda to his sister Princess Shuri, along with the elder women (like Dorothy Steele or Connie Chiume) who were apart of the Taifa Ngao, representatives of various tribes in Wakanda.
In thinking about Princess Shuri's role, she is essentially the back bone of the entire world of Wakanda. Without her technological skills, their vibranium resources would not be maximized to the level that they were. She constantly developed new methods for making vibranium more useful than before, such as with the railway system. Even T'Challa's own enhancements as a warrior would not have been possible without the suit that she created for him. T'Challa as a warrior embodied the powers of Black Panther, but the suit took him to the next level.
Then there was the Okoye's Dora Milaje, Wakanda's all-female military force directly responsible for the protection of the King. Okoye, the female general, is not only a powerful warrior but even in her interactions with her love W'Kabi, she held her ground for any position she took. Her loyalty, as she also stated to Nakia, was to the Kingdom and its king. That loyalty was something that pushed W'Kabi to bow in front of her and surrender, ending a momentary civil war. She was willing to sacrifice her friendship and love for the better good of her people, a narrative known all too well by Black women.
Nakia, a third leading female character, and one of my favorites, was T'Challa's former girlfriend who came back to Wakanda after receiving T'Challa's personal invite to his royal coronation. She continually states throughout the movie that her commitment is to help the oppressed. Nakia is the embodiment of the quintessential "strong black woman" who has tunnel vision about her mission in life. She did not plan to stay in Wakanda because she is devoted to the work that she is doing. But her love for Wakanda, and T'Challa, allowed her to stay and be a key player in ensuring Killmonger was defeated.
These leading women create a backbone to the story of T'Challa. I can even boldly say that without these strong female characters Black Panther would not have been the movie it was.
So, does that mean we are ready to create an entire movie surrounding a black female superhero?
It isn't as if black female superheroes in the Marvel and DC universe don't exist. From Marvel Universe the list includes Ororo Munroe, T'Challa's wife and former X-Men, Storm. Misty Knight, former cop known for her bionic arm in storylines like Luke Cage and Iron Man. Riri Williams, also known as Iron Heart, a super genius who takes on the role of Tony Stark's Iron Man. New Orleans native Monica Rambeau, Spectrum, is the first female Captain Marvel and the only African American Captain Marvel. Or Silhouette, former street vigilante turned mutant. DC hails their first African American female superhero Bumblebee, Wonder Woman's sister Nubia, Rocket, Anissa Pierce an openly queer character, and Justice League member, Vixen, to name a few.
With tons of options in the Marvel and DC universes, the question is less about who and more about when. The anticipation and release of Black Panther, now grossing at over $700,000,000 proves that there is a huge audience willing and ready to see black superheroes.
With the success of Wonder Woman and the acclaimed portrayals of the black women in Black Panther, could the next step be a movie with a Black female superhero?
In the next few years, diversity in superhero films may become the norm. With that being the case, the time for Black women to step out of the box of stereotypical portrayals is now. Black Panther proved that there are more narratives that haven't been told about our commitment, determination, and sacrifices that often provide a foundation in our community. Just like little black boys needs to see Black Panther, little Black girls need to see a Storm or Iron Heart movie.
Women have always been considered superhuman with all of the tasks we command on a given day, on top of biological factors that are super powers in themselves. Black Panther opened a door that will allow more conversations, and eventually more movies, that allow diverse representation to become the norm.
---
Related: