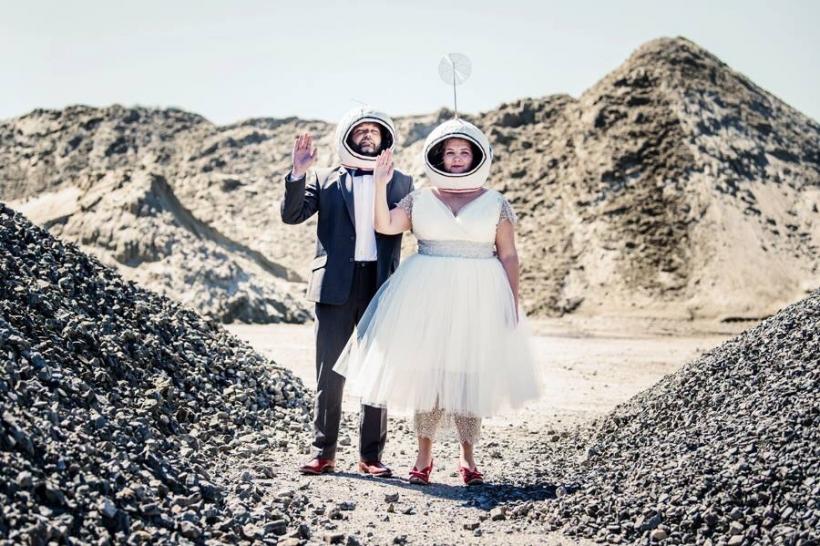 Image by Zoltan Balogh Photography
It happened. They proposed! You're engaged and all you can think about is your wedding dress. What will you wear as you walk down the aisle towards the person you'll be spending the rest of your life with? Will your body be camera ready? The stress of it all can have you spinning in a cyclone of self-doubt. We've all heard about shedding for the wedding, but who wants to deal with a hangry bridezilla?
What if I told you that you already have a bangin' bridal bod? And I have proof that beautiful brides come in all sizes, shapes and styles.
From some of your favorite influencers to the not-so-basic-bride, these 13 beauties share some of the details that made their special day remarkable.  
Laurel & David
Location: Newt Hollow, Briones Regional Park, CA
Theme: Boho
Photography: Suma Jane Dark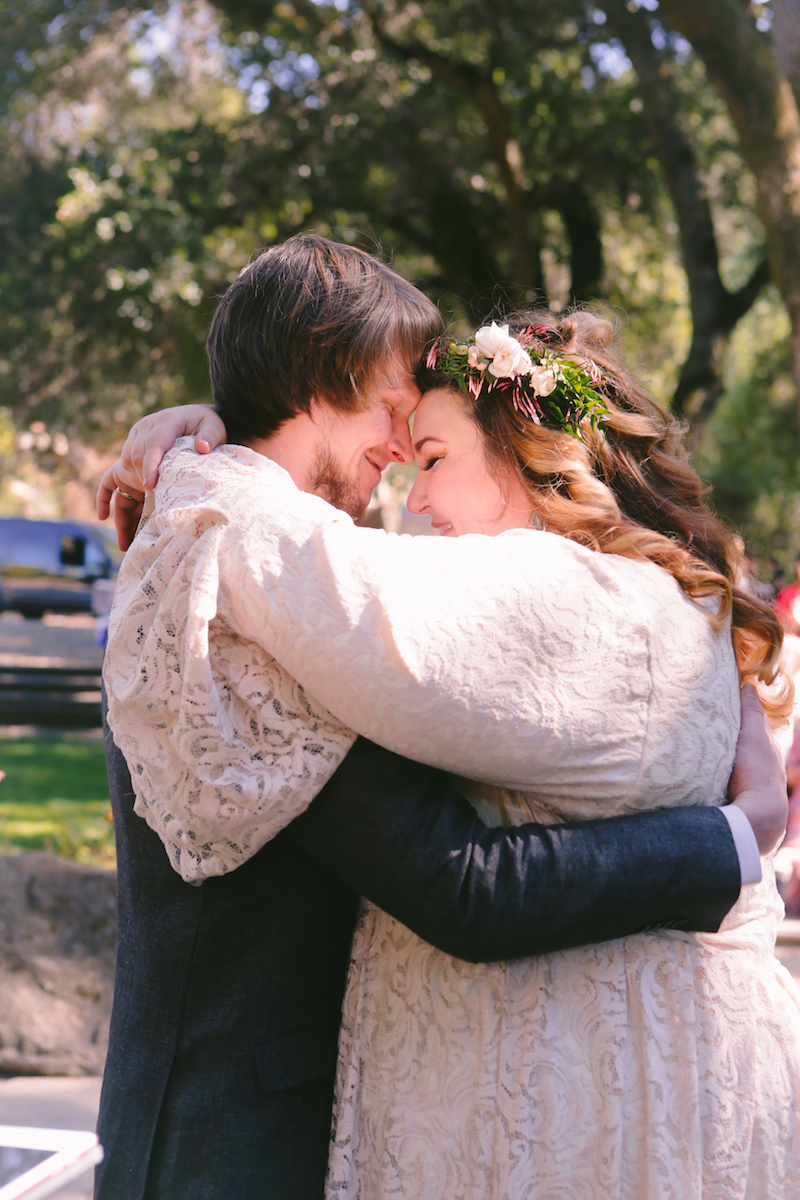 Laurel and David's wedding was centered around family and friends. The couple didn't let a budget stand in the way of their union, and neither did their friends. "My friend Yabette Swank, the creator of sustainable size-inclusive brand Swankety Swank, designed an eco-chic dress that fit my body, style, and budget," says Laurel. Friend of the bride Rhiannon Smith of Brown Paper Design focused on the floral arrangements. And photographer Suma Jane Dark captured timeless images of the couple on their special day. "It was really important for me to have a photographer that understood and respected plus-size women's bodies. As one of my closest friends, she knows what I love about myself and the things that I have yet to make peace with. Which enabled her to take incredible photographs that my husband and I will treasure forever."
Marcy & Tim
Location: Orange Hill Restaurant, Orange, Ca
Theme: Earth Day Glam
Photographer: Jorge Macias
Marcy and Tim were married in 2016 on Earth Day in Southern California. Marcy looked like a goddess in a strapless Morilee gown that she purchased from Mariposa Bridal Boutique.
Michelle & Miguel
Location: Barnyard and Carriage House, Totowa, NJ
Theme: Alice in Wonderland + Garden Tea Party
Photographer: Colleen Stepanian
Michelle and Miguel had a traditional ceremony at Saint Paul Roman Catholic Church, while their Alice in Wonderland Garden Tea Party Reception was held at the rustic Barnyard and Carriage House. The bride purchased her off-the-shoulder lace Maggie Sottero gown from The Curvy Bride. A bridal boutique that specializes in plus size bridal gown. "There was no worrying about if I was going to be able to squeeze into a dresses," says Michelle.
Tyrone & Kengie
Location: Carlstadt, NJ
Photographer: Criss Rojas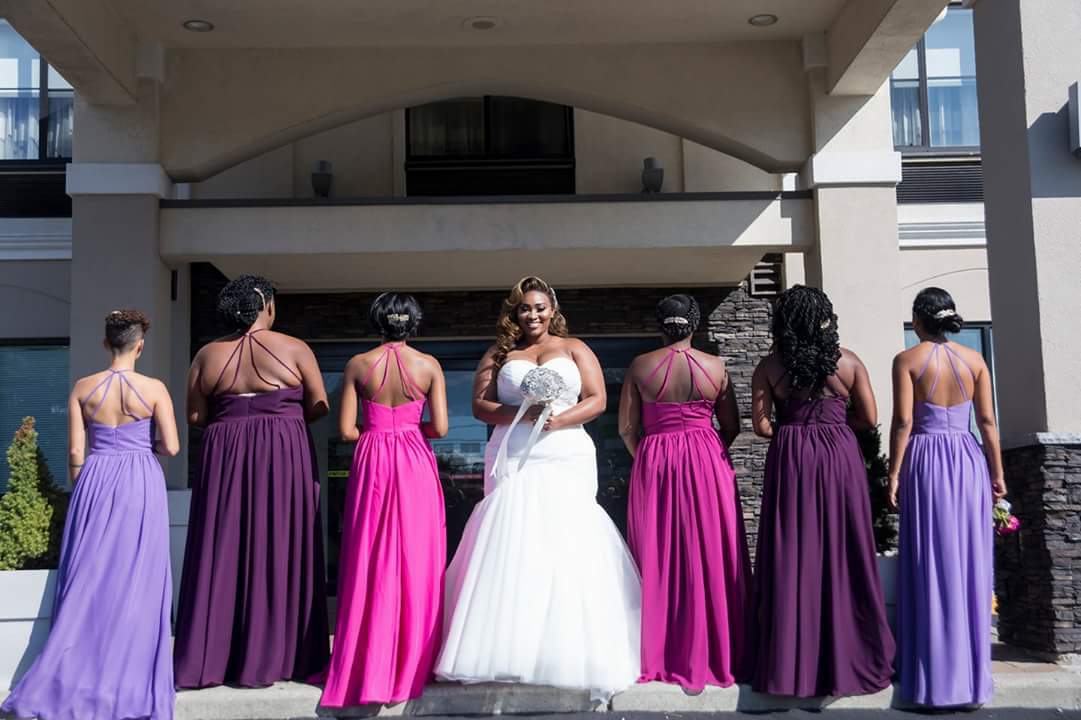 Kengie and Tyrone tied the knot in August of 2017. The bridesmaids wore assorted shades of purple, and the bride wore a strapless Cocomelody original with a sweetheart neckline and trumpet skirt.
Eva & Zoltàn
Location: Baja, Hungary
Theme: DIY
Photographer: Zoltan Balogh Photography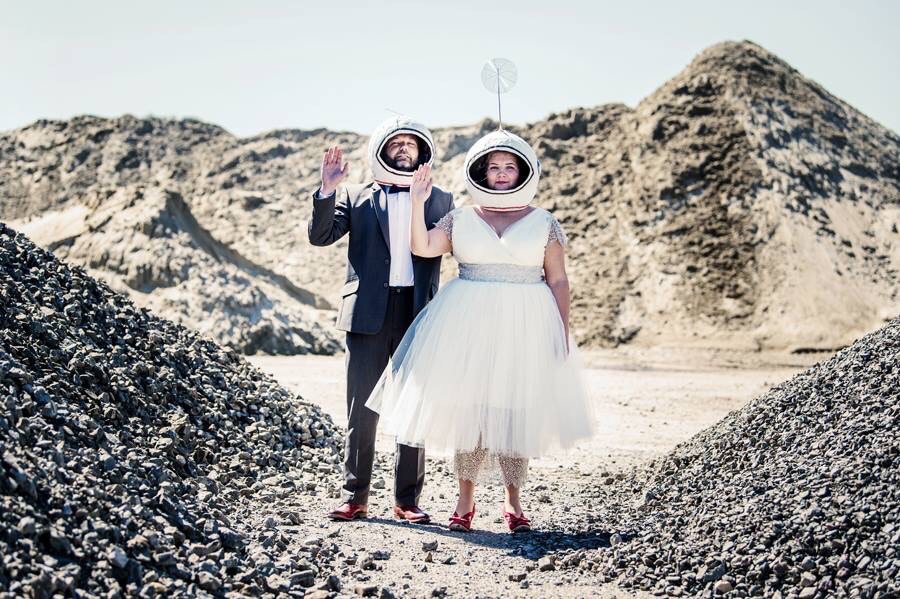 Eva and  Zoltàn were married on a little island in Baja, Hungary. The ceremony was full of inside jokes which made the day more intimate for the couple. "I walked down the aisle to a friend singing "Charlie's Ballad" from the show It's Always Sunny in Philadelphia. People were touched by the romantic song, but the two of us were laughing so much!" The bride created her own dress and documented the process on social media. "It was hard to find the perfect plus size wedding gown, so I made my own. I know what looks good on my body and I started learning how to sew four years ago. It was an emotional rollercoaster, but I am happy I did it. The dress was very much ME at that moment."
Janani & Manoj
Location: Avenra Garden Hotel, Negombo, Sri Lanka
Theme: Warm, Romantic, Timeless Opulence
Photographer: Shine Photography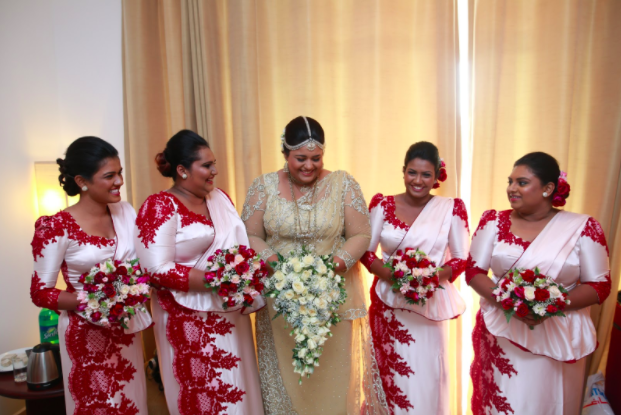 Janani and Manoj's special day was a mixture of modern details incorporated into a traditional Sinhalese wedding ceremony. Thier 350 guests enjoyed food, drinks, music, and traditions in a way that remained respectful to their Sri Lankan customs. The bride purchased her Saree at Sarita Textorium, then had more embellishments added by her favorite local seamstress. "I call her Aunty. She's always done a fabulous job with my traditional attire, and I couldn't have trusted anyone else to work on my and my bridal parties' attire for my big day."
Lexi & Ray
Location: The Box Hill Mansion at Regents' Glen Country Club, York, Pennsylvania
Photographer: Leigh Grames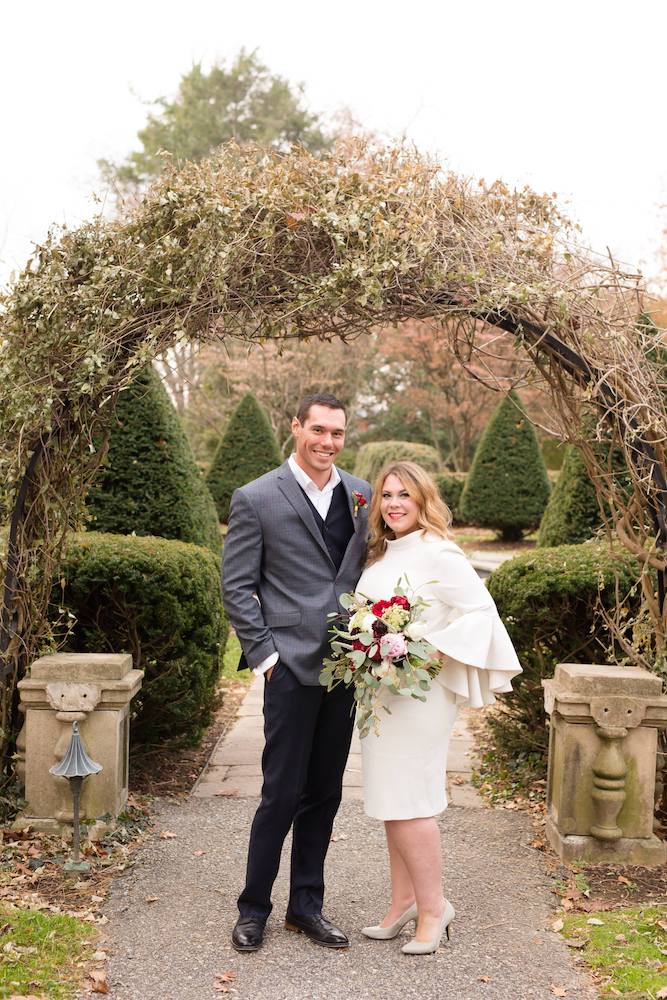 Lexi and Ray's four years of courtship ended in November 2017 when they got married in an intimate ceremony. "There was only the two of us, the commissioner and our photographer," says the bride. Lexie rented her Badgley Mischka dress and Kendra Scott earrings from Rent the Runway.
River Rae & Thorin
Location: Avenue of the Giants, Northern California
Photographer: Tiph Browne of Nerdscarf Photography
River Rae and Thorin got married standing inside a Redwood tree. Their untraditional ceremony was more of an elopement with a few friends and family. "We had our officiant write a ceremony that centered on oneness with nature and family." The bride bought her pink top and tulle maxi skirt on Amazon and customized them herself. "I've never felt as beautiful as I do in these photos!"
Erna & Donald
Location: The Venetian in Garfield, NJ
Theme: African Meets American Glam
Photographer: LaJoy Photography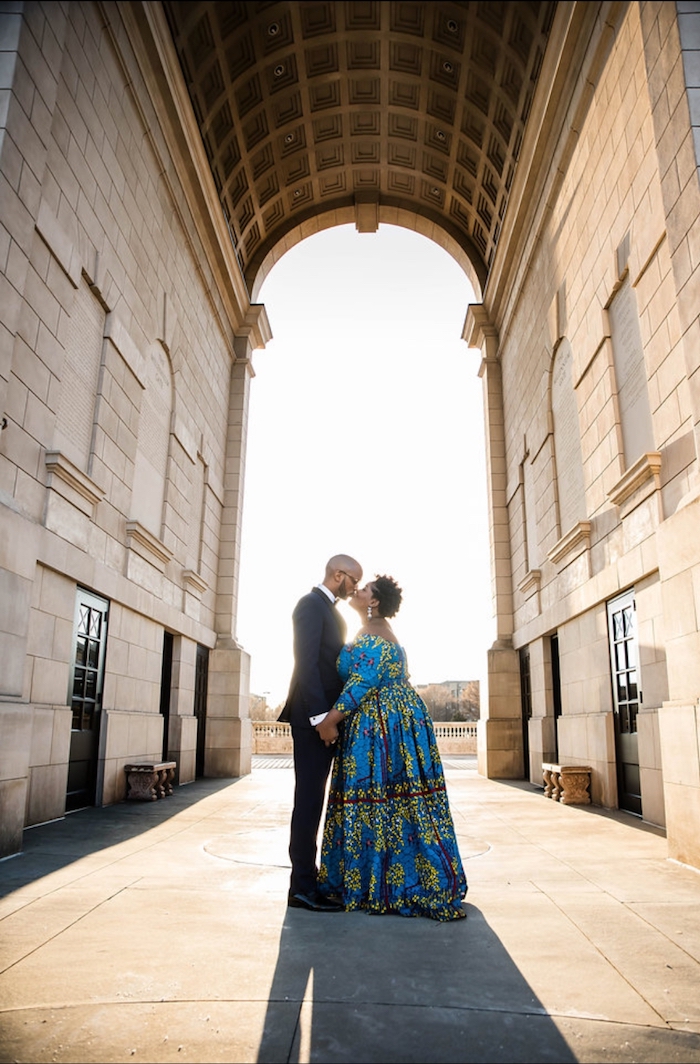 Erna and Donald's love story began in Daegu, South Korea. "Had it not been for a friend dragging me out of the house, I never would have met Donald." The two were married in September of 2017 in a ceremony that signified the joining of two cultures. "At the end of the day, I just want to be husband and wife" says Erna. So after trying on over fifty gowns, Erna decided to get her wedding dress custom made.
Andrea & Amy
Location: Royal Kona Resort, Kona, HI
Theme: Luau
Photographer: Ranae Keane of EmotionGalleries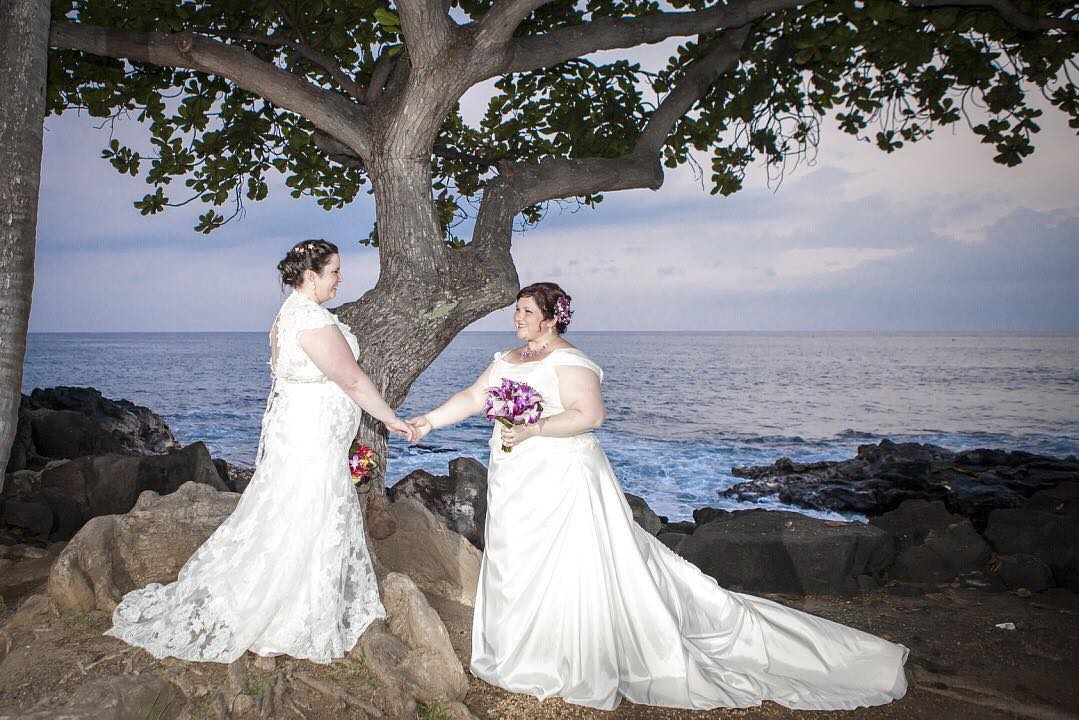 Andrea and Amy wanted a stress-free wedding by the water, and that's exactly what they got. "The resort did all of the planning and setup with us over the phone and email. We just showed up with our dresses from Bridal Exclusives and got married." Andrea explains. The luau themed nuptials celebrated Hawaiian culture with a professional hula dancer, fire dancers and leis making. "It was definitely an amazing experience and better than we ever imagined!"
Ali & Gloria
Location: The Westin Sainte Claire,  San Jose, California
Theme: A Mix of Pink With Pops Of Travel
Photographer: Sunset Productions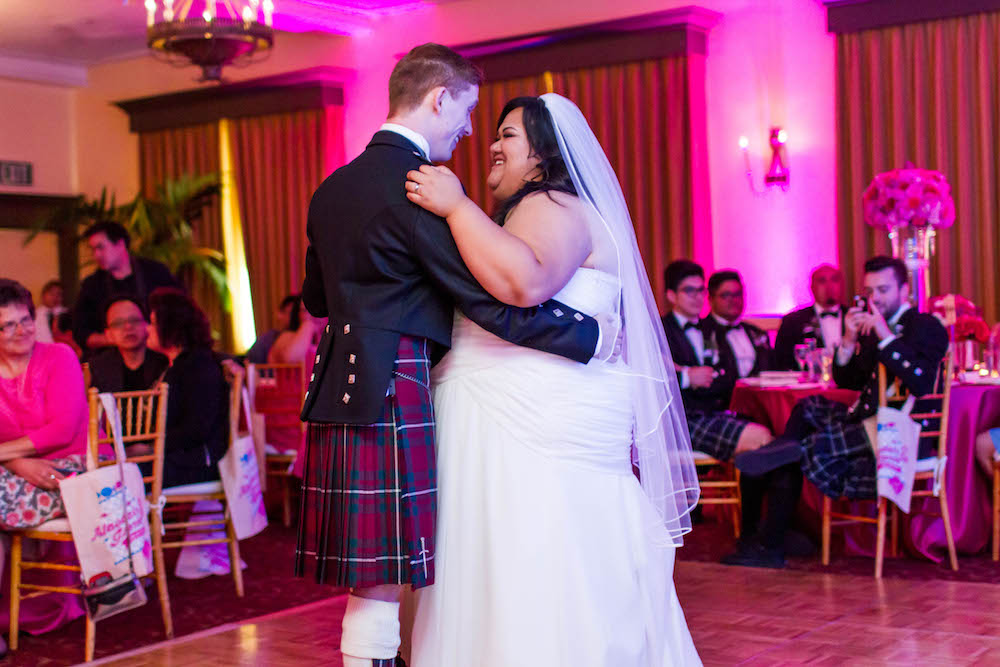 Ali and Gloria's wedding combined their shared love of travel and Gloria's favorite color, pink. "My husband's from Scotland and I'm from California. He saw my social media videos and thought I was cute. We were friends for a couple of years and then we fell in love!" Their Save The Dates were maps of Scotland and California. The invitations? Handmade passports. "Instead of a guest book we had our guests write on postcards from The Bay Area and Scotland." says Gloria. The bride's Morilee strapless sweetheart gown was beaded and pleated. She purchased it from Elegant Lace Bridal. The groom and his groomsmen worked kilts.
Kimberly & Jessica
Location: Sugar House Park, Utah
Theme: Magic is All Around Us
Photographer: Rashell Dekairelle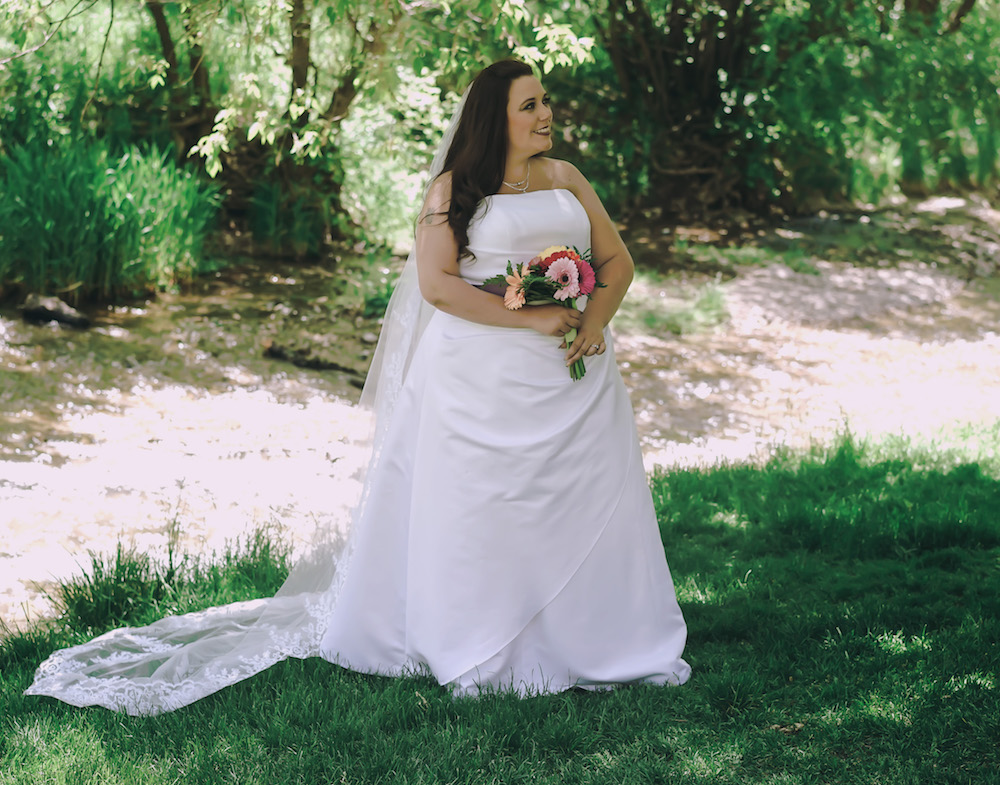 Kimberly and Jessica had a traditional wedding with a magical theme. Even more surprising, the whole event cost under $3,000. "I'm very thrifty and had a goal for the wedding to cost under $3,000 and I did it. I had a beautiful ceremony and reception and spent under $2,000. I was very pleased with how it turned out. I married my best friend and didn't go into debt to do it."
Danielle & Todd
Location: Chapter One: The Modern Local, Santa Ana, Ca
Theme: Gothic Beauty and the Beast
Photographer: Chelsea Maras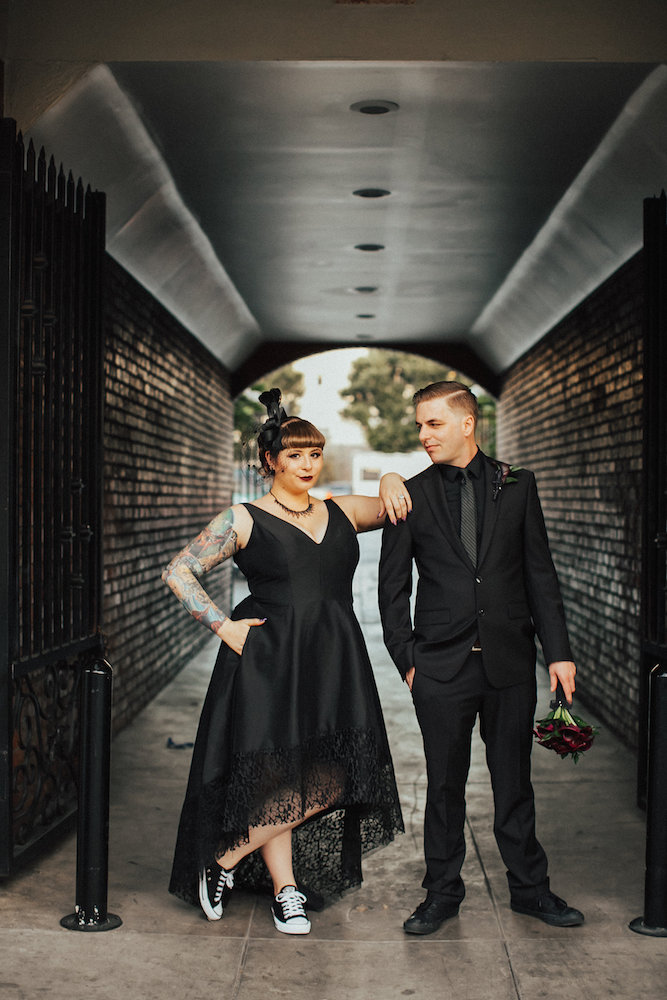 Danielle and Todd's wedding was the epitome of nontraditional. Their courthouse ceremony was followed by a intimate dinner. For the after reception party, the newly weds and friends
went to the Frida Cinema to watch
The Rocky Horror Show LIVE
. "I had never seen
Rocky
Live, so I was devirginized in front of an entire theater full of perfect strangers and about 20 of our friends," says the bride, who wore a black hi-low dress with lace detailing from Macy's. "I fell in love with it the moment I saw it. Black, short in front to show my rad black Swarovski crystal shoes, and it had pockets!"
---
Related: