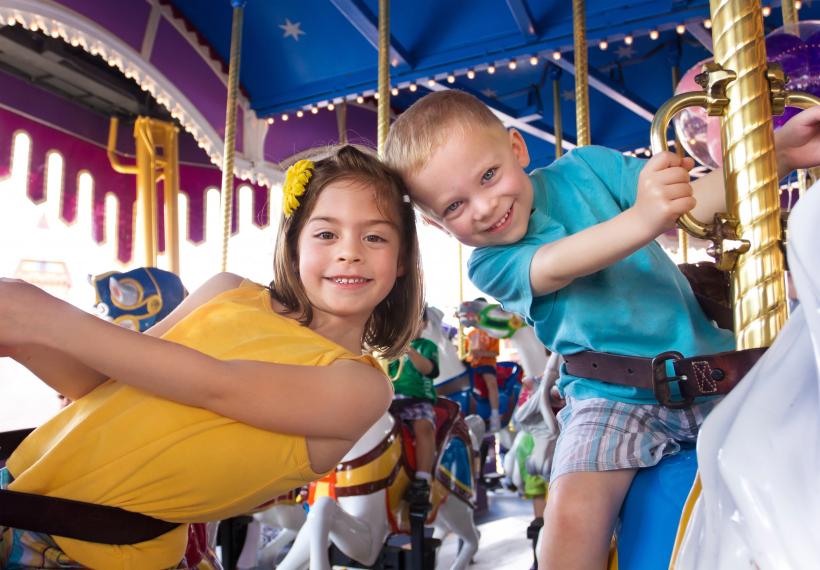 Disney can be exhausting if you don't enter the parks with a plan.
My family and I just returned from a pretty epic trip to Disney World. I can't even begin to describe all the pixie dust that was sprinkled all over us during this family adventure. Travel is great, as it allows you to reconnect with your family, but as many of you have also probably been warned, Disney can be exhausting and overwhelming if you don't enter the parks with a plan, use your Fast Passes strategically, and always know where they nearest Starbucks is.
I have faith that you will all survive your upcoming trips because there seems to be an amazing boost of energy that vibrates through your body as soon as your scan your Magic Band to enter each park that keeps you going. But, for when that energy dwindles — here's some insider tips that will help you power through (without wanting to kiss your family good-bye and head to The Rockin Roller coaster alone).
1. Know what everyone's looking forward to — before you leave.
In most cases, there's just no way to see and do everything that all 4 parks offer. So here's my big takeaway here: before you even leave, have a conversation with your whole family about the one or two things they're looking forward to most and would be devastated if they didn't get to do them. This way you know that everyone will be happy as long as that plan is being met.
And my bonus suggestion, try to use your 3 Fast Passes each day wisely and for these things — but you must wake up and book them as soon as the parks open because they fill up fast.
2. Breaks are totally required.
There is no way under any circumstance are you able to go full force with your Disney experience every single day without having some time to unwind. Whether you escape back to the hotel for an afternoon of fun at the pool, a nap, or sit down as a family for one meal a day in the parks just to breathe — do it. If not, your whole family will wear themselves out and will be cranky and you will want to up and leave them all.
3. Take a little adventure away from Disney.
Key words here being "away from Disney." Disney is magical, we all know that, but it's also a lot and sometimes you need a day or even just a morning or afternoon to step away.
We tried out the 2018 Chevy Traverse in Orlando and it was a game changer for our family and the (mostly) meltdown free days that followed. It was spacious, had wifi and fit all our things — it was perfection for the small road trip we took to Cape Canaveral to check out the Kennedy Space Center. It helped us add some education to our trip and regroup as well. I can't recommend having a vehicle at your disposal enough, because your family will want a break from the public transportation.
4. Rent/bring a stroller (with young kids).
Truth: I even saw 10-year-old kids being pushed around next to their little siblings in a double stroller. Disney is HUGE and if you keep track, I promise that your FitBit will tell you that you walked miles and miles and miles around the parks each day without even realizing. Do yourself a favor and make sure that you either bring a stroller with you or rent one there. You won't be sorry.
5. Make sure everyone is on board with a budget.
Disney is expensive. There is no way around it, so just embrace it. While they kids don't need to know any actual monetary budget, my advice it to make a "budget" whenever it comes to treats and souvenirs. For example: they are allowed x many treats each day and x many souvenirs during the whole trip. This way there is no disappointment and they know what to expect.
6. Drannnnnksss.
Here's the thing: sometimes we need alcohol (and coffee #duh) to push through the amazing exhaustion that comes from running from ride to ride and show all day long  and there are some really awesome options in these parks - except Magic Kingdom. Yup. For real. I actually tweeted to the official Disney account while we were in Magic Kingdom the second night we were there, asking about this and their response was that unless you're having table service (at a sit down restaurant), there aren't any in that park.
But, Animal Kingdom, Hollywood Studios and Epcot all have fantastic options that you can even grab on the go — so stop and enjoy yourself. In fact, in this moment, I totally count this as self-care. #truth
7. Don't stress the meltdowns.
Our last day there, our 13-month-old had the meltdown of all meltdowns on the Monorail. I get it. We had been running around for going on 4 days and we woke up early to make it to our scheduled fast pass time for the Nemo ride in Epcot and she was just pooped. So the meltdown happened and we just rolled with it.
We let her cry it out and realized that we all needed to hightail it to the pool for some relax time. In fact, every single time I witnessed another family going through the same thing (which was often), they got a little "I got you" nod from me, because we're all in this together.
Enjoy your Disney trip! And if you're feeling brave, use what you have learned to travel the world!
---
Related: